Hot on the heels of the writers walking out over pay, SAG-AFTRA members have voted overwhelmingly in favor of strike action if upcoming contract talks between the guild and the Alliance of Motion Picture and Television Producers (AMPTP) fail to reach a new agreement on new contracts by June 30th. SAG-AFTRA is the amalgamation of two talent unions in the industry, the Screen Actors Guild and the American Federation of Television and Radio Artists. They have also chosen some rather… interesting… iconography to announce the strike on their website: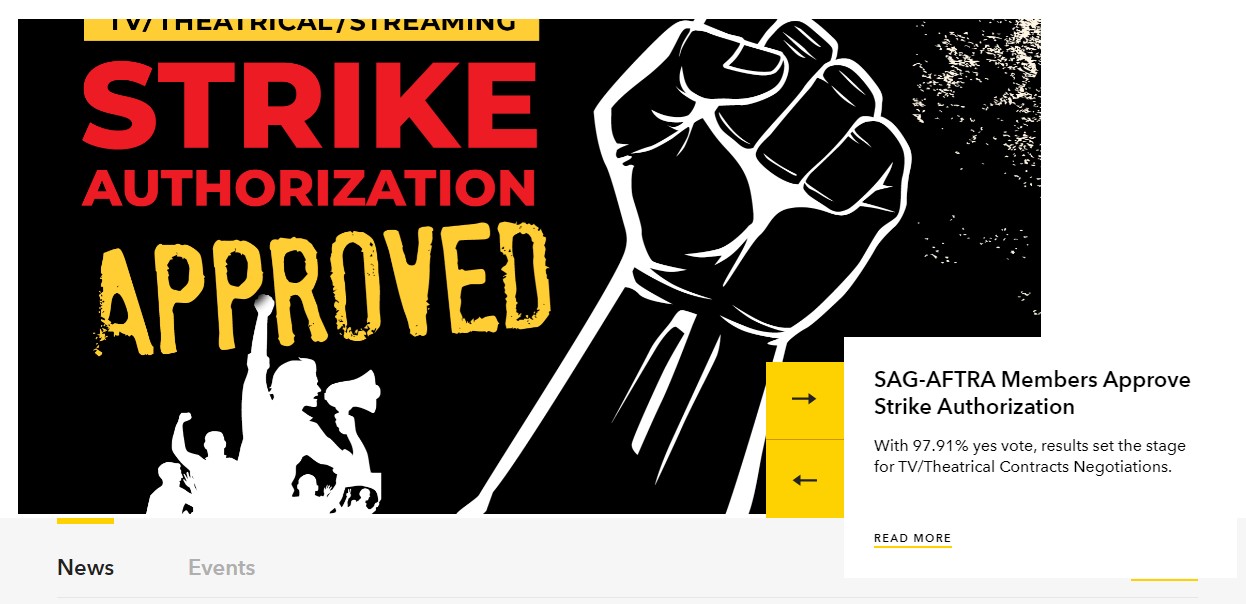 The vote was 97.91% in favour, which puts them over the 97.85% of the WGA who voted for their strike earlier this year. Who knew Hollywood was so outrageously underpaid? Turnout was around 65% and the voter came just two days before the guild begins the bargaining process for a new contract with the AMPTP. This gives SAG-AFTRA leverage in these negotiations. If the strike was to be called, it would basically shut down all Hollywood production. Great news for fans of Bollywood and Asian cinema, not so great news for everyone from ABC to Warner Bros.
SAG-AFTRA president Fran Drescher released a statement as the results were announced:
"The strike authorization votes have been tabulated and the membership joined their elected leadership and negotiating committee in favor of strength and solidarity.

I'm proud of all of you who voted as well as those who were vocally supportive, even if unable to vote. Everyone played a part in this achievement.

Together we lock elbows and in unity we build a new contract that honors our contributions in this remarkable industry, reflects the new digital and streaming business model and brings ALL our concerns for protections and benefits into the now! Bravo SAG-AFTRA, we are in it to win it."
The last actor's strike against the studios was all the way back in 1980 and there was a three-month walkout. Striking continued for several months, during which time almost all production on film and television was halted. Additionally, the 32nd Primetime Emmy Awards were boycotted by the unions, with only one Emmy winner attending the event, which was actor Powers Booth.
That strike achieved a 32.5 percent wage increase, a guarantee for 4.5 percent of the gross revenues for home media releases, and a 30 percent increase in residuals, among other improvements to employee benefits.
Check back every day for movie news and reviews at the Last Movie Outpost