Fresh from punching a lion in the face, Idris Elba will help solve a mid-air hijacking. Apple TV+ has released the official trailer for the action thriller series Hijack.
Hijack will unfold in real time to follow the journey of a hijacked plane from Dubai to London on a 7-hour flight. Along the way, the authorities on the ground scramble for answers as Elba's business negotiator tries to make a deal with the hijackers, while also planning to enlist the passengers in an attempt to take back the plane. On the ground, a political drama unfolds as the government wrestles with the demands of the terrorists and uncovers a potential conspiracy closer to home.
The series will split its focus between the perspectives of several passengers aboard the flight in question, a team of counter-terrorism specialists, and negotiators working to intercept the plane and safely rescue the hostages. With only seven hours until the flight runs low on fuel, the clock is ticking.
The supporting cast of Hijack features Archie Panjabi, Christine Adams, Max Beesley, Eve Myles, and Neil Maskell. It is based on an outline by Lupin creator George Kay and is directed by BAFTA-nominated The Wrong Mans director Jim Field Smith. Elba also executive produces the series.
Hijack will launch with two episodes on June 28th followed by weekly releases.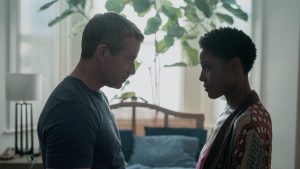 Apple TV+ has deliberately not confirmed the number of episodes to keep audiences guessing how it unfolds.
Check back every day for movie news and reviews at the Last Movie Outpost