Robert Englund says he's too old to play Freddy Krueger again. The horror icon, and bedrock of the 1980s of many Outposters, says his time in the striped water is over. He made the comments as part of a documentary – Hollywood Dreams & Nightmares: The Robert Englund Story.
Although he will be forever associated with the horror character, Englund's screen career spans many movies, TV series, video game characters, and even directing. He has more than 160 credits to his name, including his breakthrough role in the legendary mini-series V. He played the vicious, dream-invading child killer in eight movies and a TV series before finally hanging up his bladed glove after 2003s Freddy vs. Jason. They tried to relaunch the franchise with a reboot in 2010 with Jackie Earle Haley in the role, but that didn't go so well.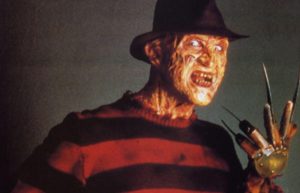 Englund had this to say:
"I know who icons are. I'm not an icon. Maybe Freddy Krueger is, but I'm not. I'm just a character actor, a utility actor who's been very lucky. I'm too old and thick to play Freddy now. I just can't do fight scenes for more than one take anymore, I've got a bad neck and bad back and arthritis in my right wrist. So I have to hang it up, but I would love to cameo."
He showed he still has a good handle on the character, though. When asked if Nightmare On Elm Street could be made to work in today's world, he deftly laid out his idea:
"You'd have to deal with technology and culture. For instance, if one of the girls was an influencer, it would be interesting for Freddy to somehow haunt her subconscious and manifest himself, perhaps exploit everybody that followed her."
The documentary is said to include some little-known facts from his past, such as when he encouraged his roommate Mark Hamill to audition for Luke Skywalker. Lin Shaye, Eli Roth, Tony Todd, Heather Langenkamp, and more all appear in the documentary. It will debut on Screambox next week.
If you can't wait until then, the Nightmare On Elm Street edition of The Movies That Made Us is available now to stream on Netflix.