June 16th is the day! The magnificently named Tyler Rake returns from Extraction, and apparent death, to star in Extraction 2. You have no idea how much willpower I just needed to not type "Electric Boogaloo" after that title. So one month today and this will be on Netflix.
Extraction 2 is directed by Sam Hargrave and written by Joe Russo, based on the graphic novel Ciudad by Ande Parks, Joe Russo, Anthony Russo, Fernando León González, and Eric Skillman. A sequel to the 2020 film, Chris Hemsworth, Golshifteh Farahani, and Adam Bessa reprise their roles, with Olga Kurylenko, Daniel Bernhardt, and Tinatin Dalakishvili joining the cast.
After being presumed dead 9 months ago, Tyler Rake is assigned back by the black-ops mercenary to rescue a ruthless Georgian gangster's family from the prison where they are being held.
Shooting began in Vienna, Austria on January 28, 2022, and lasted until February 14, 2022. Scenes were shot at Donau City in the vicinity of the DC Towers. Filming officially wrapped on April 6, 2022. The film was shot on the ARRI ALEXA Mini LF cameras by implementing the same long-take strategies from the first film.
That first movie was released on April 24, 2020, and it received praise for its performances (particularly Hemsworth), cinematography, editing, and action sequences, but the screenwriting drew criticism. It became the most-watched original film in Netflix's history, with over 99 million viewers during the first four weeks.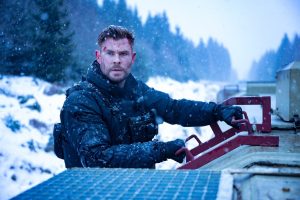 However the Western world has to hate on itself, and so Extraction was criticized by several outlets as having "white savior" elements. Variety called the film:
"…a white-savior version of Man on Fire…"
So Variety completely failed to realize that Man On Fire was a remake of a Scott Glenn movie that was based on a novel by AJ Quinnell. Screen Rant highlighted the films:
"…regressive white savior elements…"
Yet another reason to visit Last Movie Outpost instead, we guess. You don't have to put up with this kind of idiocy.
Check back every day for movie news and reviews at the Last Movie Outpost