Just over two weeks to go until Extraction 2 lands on Netflix and we see if lightning really can strike twice, delivering the same no-nonsense action and thrills of the first movie. Those involved are not hanging around and are already thinking beyond this second installment.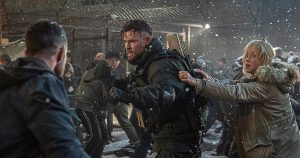 Director, and ex-stuntman Sam Hargrave spoke to BroBible's Post-Credit Podcast and said they already have a story in mind and if the second movie lands well, the third will be greenlit.
"We're kind of waiting to see how the second movie is received. Fingers crossed, if people enjoy the second one, there already is – and this is without spoiling anything – but there is a story in development for a third movie in the works. What it is exactly, I can't say right now, but I believe there is another adventure in the wind for Tyler Rake."
He went on to talk about star Chris Hemsworth, and he indicated they have already spoken about the third movie, with Hemsworth happy:
"…to be heading a franchise that has the emotional core and depth that Tyler Rake does, and still have this globe-trotting, action grittiness to it – I think those are two pretty cool characteristics and I think he recognizes that. So when we spoke, yes, he said he would be interested in perhaps reprising the role."
The first installment became the most-watched original film in Netflix's history, with over 99 million viewers during the first four weeks. Golshifteh Farahani, Adam Bessa, Olga Kurylenko, Daniel Bernhardt, and Tinatin Dalakishvili all join Hemsworth in Extraction 2, which hits Netflix on Friday, June 16th.
Check back every day for movie news and reviews at the Last Movie Outpost