Mike Flanagan reaches the end of his five-project cycle for Netflix with The Fall of the House of Usher.
As he did with The Haunting of Hill House and The Haunting of Bly Manor, the story is widened to take in elements from the whole catalog of works from their author, not just the adapted novel. In this case, several works of Edgar Allan Poe will be referenced.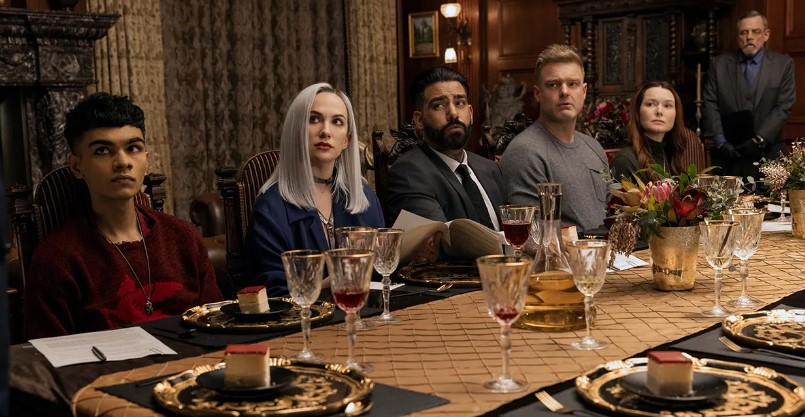 The eight-episode horror follows the reclusive Roderick (Bruce Greenwood) and his twin Madeline (Mary McDonnell) as they do anything to help their family business, Fortunato Pharmaceuticals, become the pinnacle of the industry. The Usher family's dark secrets start to come to the surface when a mysterious woman begins to haunt them.
Mark Hamill, Carla Gugino, Rahul Kohli, Willa Fitzgerald, Henry Thomas, Zach Gilford, and Kate Siegel all co-star.
The Fall of the House of Usher was originally a short story by American writer Edgar Allan Poe, first published in 1839 in Burton's Gentleman's Magazine, then included in the collection Tales of the Grotesque and Arabesque in 1840. The short story is regarded as a classic example of Gothic fiction. It includes themes of madness, family, isolation, and metaphysical identities.
Poe's inspiration for the story is said to have been the Hezekiah Usher House, which was located on the Usher estate that is now a three-block area in downtown modern Boston, Massachusetts. The house was constructed in 1684 and, according to legend, when it was torn down in 1830 remains were found, said to be a  sailor and the young wife of the older owner who were caught and entombed in their trysting spot by her husband. The two bodies were found embraced in a cavity in the cellar.
Flanagan will now transition to Amazon for his next series of projects. The Fall of the House of Usher lands on Netflix on October 12th.
Check back every day for movie news and reviews at the Last Movie Outpost