Walt Disney Pictures has released the new, full-length trailer for Haunted Mansion. This is their new, feature-length, live-action film based on their famous Haunted Mansion ride at their parks. This is more closely matched to the Southern theming in Disneyland, rather than the more classical theming of Walt Disney World's version in Florida. They have also released the poster.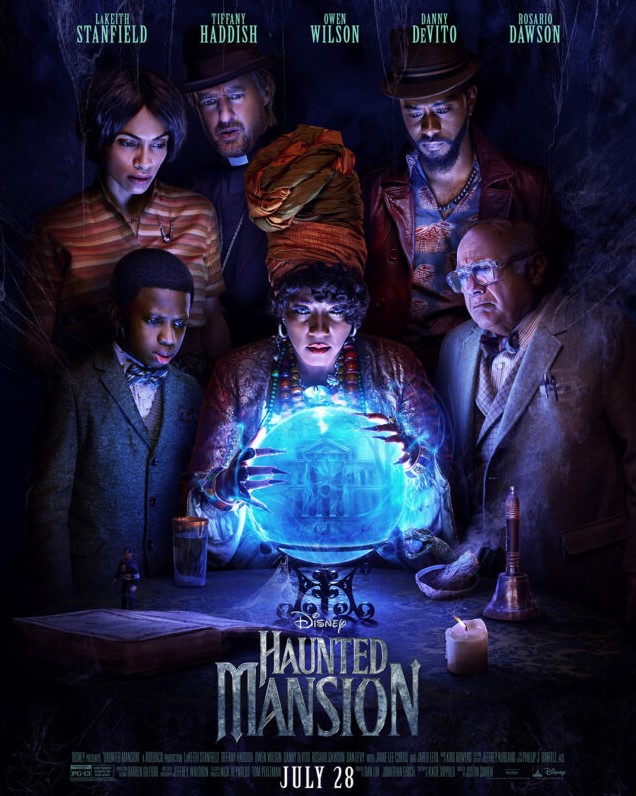 A doctor (Rosario Dawson) and her 9-year-old son (Chase Dillon), looking to start a new life, move into a strangely affordable mansion in New Orleans, only to discover that the place is much more than they bargained for. Desperate for help, they contact a priest (Owen Wilson), who, in turn, enlists the aid of a widowed scientist-turned failed-paranormal expert (LaKeith Stanfield), a French Quarter psychic (Tiffany Haddish) and a crotchety historian (Danny DeVito) to unravel the history of the house.
The rest f the cast is impressive. Jared Leto is the Hatbox Ghost and Jamie Lee Curtis is Madame Leota. Others appearing include Winona Ryder, Chase Dillon, Dan Levy, and Hasan Minhaj. Many of these can be seen in the trailer.
The famous theme park attraction has been adapted into a movie before. The 2003 version followed hot on the heels of the success of Pirates Of The Caribbean: The Curse Of The Black Pearl starring Eddie Murphy as a workaholic realtor who manages to get trapped inside the haunted property with his family in tow.
The Haunted Mansion ride was one of the first-ever envisaged for Disneyland when, very early in the thinking for the park, they were developing the attraction to be located across from the studios, way before Anaheim came into play. In 1951, the first known illustration of the park showed a main street setting, green fields, a western village, and a carnival with the Haunted Mansion appearing as a deserted property. Walt Disney, however, rejected the idea of having a run-down building in his park, and the theming was born.
Dear White People filmmaker Justin Simien directs this new version from a script by Katie Dippold. Dan Lin and Jonathan Eirich produce. Haunted Mansion is set to arrive in cinemas on July 28th.
Check back every day for movie news and reviews at the Last Movie Outpost