Hammer Films continues its comeback with the first trailer for Doctor Jekyll, its forthcoming adaptation of the classic horror story. This version stars British comedian and actor Eddie Izzard. It is based on Robert Louis Stevenson's 1886 novella The Strange Case of Dr Jekyll and Mr Hyde.
In this version, a modern reimagining, Izzard plays the reclusive Doctor Nina Jekyll, who finds friendship in her newly hired help, Rob (Scott Chambers).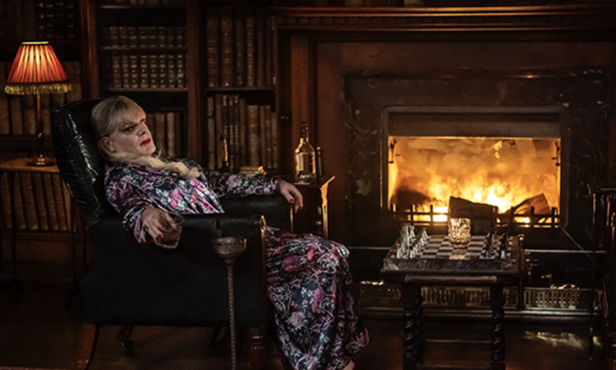 The teaser is moody, and more than a little camp. Thus far, hard horror elements are held back. The preview reviews have been strong for the movie. According to the blurb:
"When ex-convict Rob takes the carer position to the infamous Nina Jekyll, little does he know he's part of an evil master plan devised by her alter ego Rachel Hyde. But to what lengths will Rob go to satisfy his client's weird wishes and his own ambitions for the daughter he has never even seen?"
Doctor Jekyll also stars Lindsay Duncan and Simon Callow. The original classic told the story of London-based legal practitioner Gabriel John Utterson, who investigates a series of strange occurrences between his old friend Dr. Henry Jekyll, and a murderous criminal Edward Hyde.
This version is directed by Joe Stephensen. Doctor Jekyll is the first release from the recently resurrected Hammer Film Productions, following the company's acquisition by theatre and entertainment mogul John Gore.
Doctor Jekyll will have its red carpet premiere on 11 October at London's Odeon in Leicester Square, before its release in UK cinemas on 27 October. Izzard has recently decided he wants to be referred to as a she and called Suzy is currently on the North American leg of his/her Remix Comedy Live tour.
Check back every day for movie news and reviews at the Last Movie Outpost