Seemingly only five minutes after they got started, Amazon's Jack Ryan series is coming to a close. Hollywood's Ryan-verse problem remains. When the books first started being adapted into movies, starring Alex Baldwin and then Harrison Ford, they were talked up as America's answer to James Bond. A more mature, grounded espionage story. From The Sum Of All Fears onwards, they just started to veer wildly from the source material.
Never mind that you have a multi-million-selling series of novels with a coherent timeline to work from, with an inbuilt audience. Why not just give it to a writer's room to see if they can ruin it, as they do with everything else? That is how you end up with Jack Ryan: Shadow Recruit and Without Remorse. So when it was announced that Jack Ryan was coming to a major streaming service in serial form, there were high hopes. Were they finally going to treat the source material with respect again? Would the serial format and multiple seasons allow them to tell the stores properly? Well… Hollywood gonna Hollywood.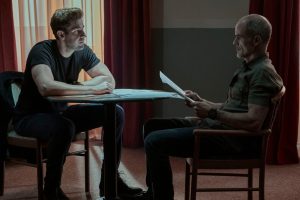 That is not to say that Jack Ryan is bad. It is perfectly entertaining. It just isn't Tom Clancy. The show is occasionally on nodding terms with some aspects of the books, but other than that it's just character names and little else.
Well, whatever it is, it is nearly all over. Amazon Prime has premiered the first trailer for the fourth and final season of Tom Clancy's (cough) Jack Ryan. John Krasinski returns for one go around. By now he is the new CIA Acting Deputy Director and is tasked with unearthing internal corruption. As you would expect, he uncovers a series of suspicious black ops that could expose the vulnerability of the United States. As he and his team explore how deep the corruption runs, he discovers a far-worse situation brewing – the convergence of a drug cartel with a terrorist organization.
So it's Clear And Present Danger then?
Series regulars Wendell Pierce, Michael Kelly, Betty Gabriel, and Abbie Cornish all return, with Michael Pena joining the cast as unconventional CIA recruit Domingo Chavez, who will be very familiar to readers of the books. The unbelievably long roster of executive producers is worth noting. Allyson Seeger, Andrew Form, John Krasinski, Brad Fuller, Michael Bay, John Kelly, Tom Clancy, David Ellison, Dana Goldberg, Matt Thunell, Vaun Wilmott, Mace Neufeld, and Carlton Cuse are all in for points. Jack Ryan is produced by Amazon Studios, Paramount Television Studios, and Skydance Television.
The six-episode final run of "Tom Clancy's Jack Ryan" debuts on the Amazon Prime service on June 30th with two episodes that day, two more on July 7th and the final two on July 14th.