John Wick: Chapter 4 made big bank for Lionsgate at the cinema. This weekend it was released on Digital and it is pulling in the numbers at home too. Those of you who have seen it will know the storyline and the final scenes cast some doubt over the future direction of the franchise. The final exchange between Winston and the Bowery King is intriguingly ambiguous though, almost deliberately.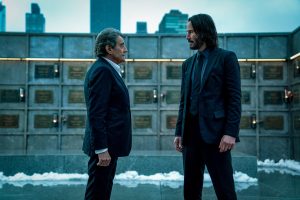 There's a limited prequel series – The Continental – coming later this year. The Ana de Armas-led spin-off  movie Ballerina is due next year. Keanu Reeves and director Chad Stahelski seemed to hint that Wick's story was done, as far as the main character goes. But this is Hollywood, so as part of Lionsgate's Q4 2023 earnings call, Motion Picture Group chairman Joe Drake said that a fifth John Wick movie is in early development.
They have a franchise, and they aren't going to let it go! According to a report in ComicBook.com the plan is to aggressively expand the franchise across multimedia as well. Drake said:
"We're now moving across that franchise, not just in the AAA video game space, but looking at what the regular cadence of spin-offs, television [and] really growing that universe so that there is a steady cadence of a franchise that there's clear appetite [for] by the audience.

What is official is that, as you know, Ballerina is the first spinoff that comes out next year. We're in development on three others, including John Wick 5 and including television series. The Continental will be airing soon.

And so, we're building out the world and when that five movie comes, [it] will be organic – will be organically grown out of how we're starting to tell those stories. But you can rely on a regular cadence of John Wick."
Which is a shame. The world-building in the John Wick franchise, from the relatively austere first installment up to Chapter 4, has been excellent but you cannot deny that by Chapter 4 it had all grown about as far as you would want it to. The incredibly capable and feared John Wick had also become borderline superhuman, with nice, fun touches like the ballistic suits starting to outlive their welcome. John Wick: Chapter 4 let it go out on a high, but also felt the right time and place to end it.
The idiocy of the suits cannot be denied.
Check back every day for movie news and reviews at the Last Movie Outpost