In 1920s Oklahoma, fear stalks the oil-wealthy Osage Nation, as a series of brutal murders unfolds that would become known as the Reign of Terror. This will spark a major FBI investigation directed by a 29-year-old J. Edgar Hoover and an old-style lawman, former Texas Ranger Tom White. This is the setting for Martin Scorsese's upcoming period drama Killers of the Flower Moon. The movie had its premiere in Cannes last week, and now the reviews are out along with a trailer.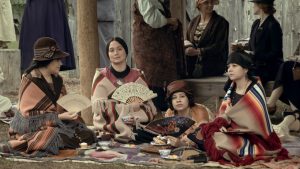 Scorsese apparently changed tack during the creative process. It was originally going to focus purely on the FBI investigation. This then grew to include a romantic subplot and a family focus alongside the investigation. The result is a 3-hour and 26-minute epic, a budget of $200 million, and a cast that includes Leonardo DiCaprio, Robert De Niro, Lily Gladstone, Jesse Plemons, John Lithgow, Brendan Fraser, Cara Jade Myers, JaNae Collins, Jillian Dion, Tatanka Means, William Belleau, Scott Shepherd, and Tantoo Cardinal.
The movie is based on David Grann's best-selling book and was adapted into a screenplay by Eric Roth and Scorsese. Scorsese, DiCaprio, Dan Friedkin, Bradley Thomas, and Daniel Lupi produce Killers of the Flower Moon and it will get a limited theatrical release through Paramount Pictures on October 6th before opening wide on October 20th. It will then jump to Apple TV+.
After the premiere at Cannes late last week, the reviews are now out and they are glowing, as this shapes up to be an awards season titan:
"The three-and-a-half-hour running time is fully justified in an escalating tragedy that never loosens its grip — a sordid illustration of historical erasure with echoes in today's bitterly divisive political gamesmanship."
David Rooney, THR
"This is an utterly absorbing film, a story that Scorsese sees as a secret history of American power, a hidden violence epidemic polluting the water table of humanity"
Peter Bradshaw, The Guardian
"Those heading to a Martin Scorsese movie looking for the electric verve of so many of his past films may initially be disappointed. But as Killers of the Flower Moon seeps in, it shocks, resounds, and haunts."
Richard Lawson, Vanity Fair
"Killers Of The Flower Moon is to be savoured as elevated cinema, each frame a picture moving towards a goal. Not just in the more bravura camera sweeps, but the very construction of even the most – deceptively – simply-staged scenes."
Fionnuala Halligan, Screen International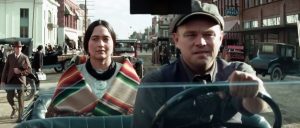 Killers Of The Flower Moon also received the longest standing ovation of this year's festival so far. Nine minutes. Speaking of the movie, star Lily Gladstone said that the input of the Osage Nation greatly changed the film from what Scorsese had originally envisioned and that their collaboration had positively affected the film.
Check back every day for movie news and reviews at the Last Movie Outpost