Marvel Studios has been in the wars lately, as we have reported and discussed extensively here at Last Movie Outpost. Their Midas touch has deserted them since Endgame. There was, however, one Disney+ TV series that showed promise. Hawkeye.
While it must stick in their throats that their best show, quality-wise, featured a middle-aged, straight white guy from the Midwest who just wanted to spend Christmas with his family, it's too late now. Marvel knows it has a problem and has been attempting to change things up. She-Hulk season 2 is on indefinite pause. Daredevil: Born Again is being reworked to make it more Daredevil-y. They put their foot on the ball of the developing disaster that was Blade.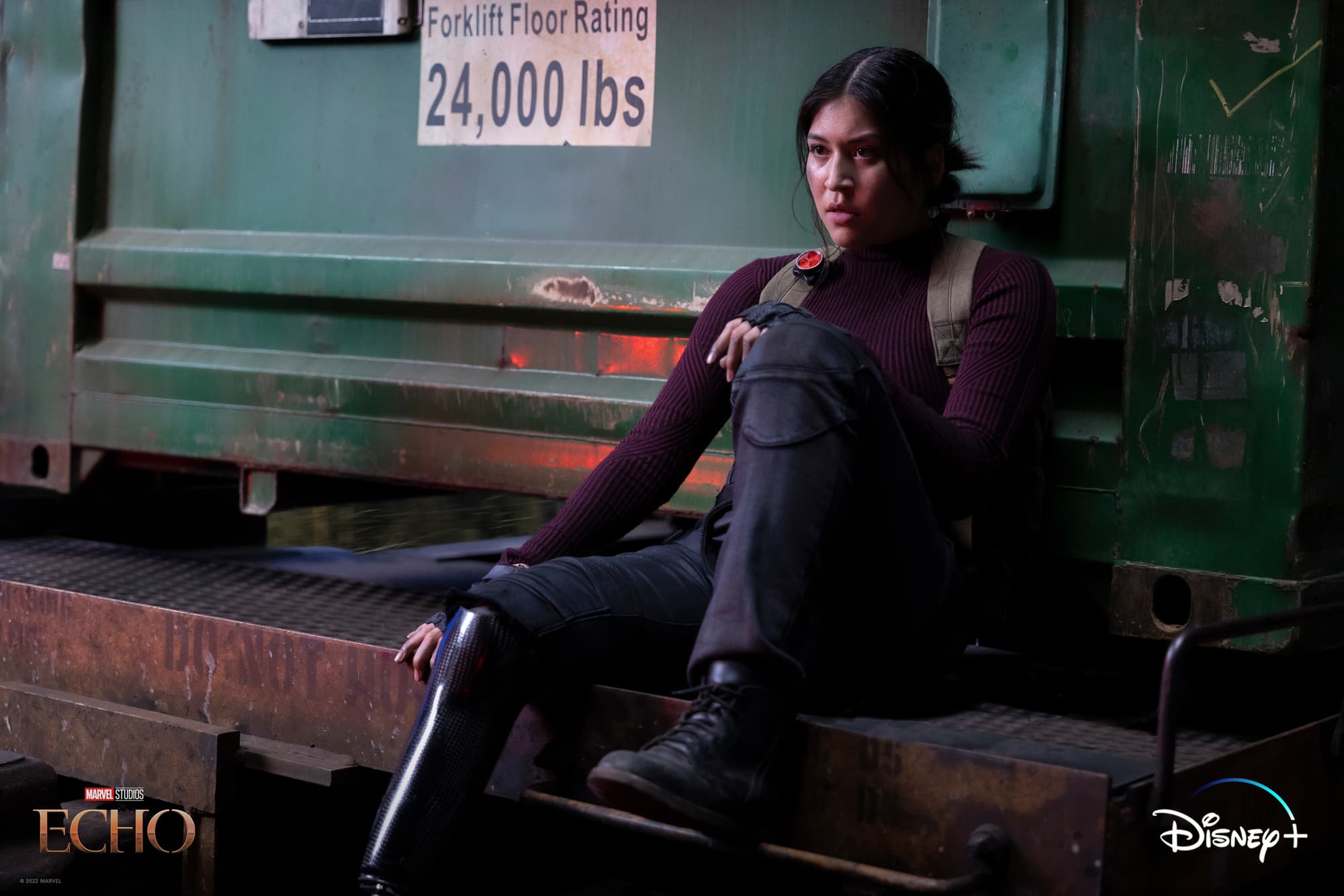 They also re-shot Echo and stripped it down to five episodes to make it more focused. It features the return of Vincent D'Onofrio's Wilson Fisk and is their first TV-MA rated series. So there could be hope, however slim.
Alaqua Cox's character was introduced in Hawkeye. Echo is a deaf Native American hero who has the talent to imitate any opponent's fighting style. In this event series when will be pursued by Wilson Fisk's criminal empire, we presume after the events of the finale of Hawkeye. When the journey brings her to her hometown in Oklahoma, she must confront her own family and legacy.
Chaske Spencer, Tantoo Cardinal, Graham Greene, Cody Lightning, Charlie Cox, Devery Jacobs, and Zahn McClarnon round out the cast, and now Marvel has dropped a trailer.
All five episodes will stream on January 10th on both Disney+ and Hulu simultaneously – the first Marvel Studios series to drop all entirely bingeable episodes at once. They will be poring over the data to see how this affects viewing figures. Marvel (and Disney+ in general) have traditionally stuck to weekly episode releases.
The series is expected to lead directly into Daredevil: Born Again with D'Onofrio and Charlie Cox appearing across several episodes.
Check back every day for movie news and reviews at the Last Movie Outpost