Interesting Marvel news is currently swirling around the interwebz, and it paints a picture of not an altogether happy ship at Marvel Studios. There are a few issues that all seem to be hitting at once. The ongoing Jonathan Majors issue remains a cause for Marvel concern as they await the outcome of investigations into allegations against the actor. This comes as Vanity Fair senior writer and upcoming author of MCU: The Reign of Marvel Studios, Joanna Robinson claims that the plan was originally supposed to go in a completely different direction.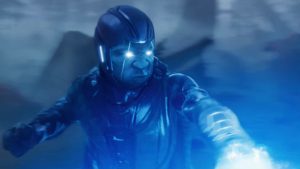 Marvel's Phase 5 and Phase 6 were not going to be Kang-centric until Loki happened. As Robinson tells it:
"I was told by someone who works for Marvel, it was not the plan to make Kang the center of everything until they saw the dailies from Quantumania and after his performance in Loki, which was so strong they were like, 'This is it. This is our way forward. We've lost our varsity hero team, but let's set up around this guy Kang and this performer that so many people are reacting to.'"
Having changed course to center on Kang The Conqueror and one particular actor, Marvel is now facing potential re-casting if the domestic violence charges stick. This is not the only issue Marvel are currently wrestling with. According to The Hot Mic podcast with Jeff Sneider, Ant-Man and the Wasp: Quantumania writer Jeff Loveness is no longer writing the upcoming Avengers: The Kang Dynasty. With a WGA strike underway, replacement and re-writing is an issue. Plans and schedules may be entirely pushed out. Sneider claimed:
"Loveness, deserved or not, got a lot of criticism for his scripts and, yes, it sounds like they are going in another direction…. from what my source says."
So a double whammy? Not quite. More like a triple whammy. According to the same outlet, Echo is also in trouble. Extensive reshoots have been needed, and more:
"I heard that it was a mess and that the show came in so bad that they basically had to reshoot the entire thing. I'm told that they originally shot eight episodes, and [Kevin Feige] thought it was unreleasable, so they talked about cutting it down to four episodes or six in post.

But then they ended up reshooting it, so my source did not actually know how many episodes they wound up with. But yeah, apparently, it needed a top-down rejiggering, and Kevin was not happy with it."
This might explain why Echo is being released all in one go on November 9th via Disney+, changing their usual week-by-week release strategy. Maya Lopez returns as Echo from Hawkeye. Guest stars include Vincent D'Onofrio as Wilson Fisk and Charlie Cox as Matt Murdock. Avengers: The Kang Dynasty was due out in 2025, but that must now be at risk with a change of writer in a strike.
Check back every day for movie news and reviews at the Last Movie Outpost