As of right now we're about halfway through the first season of Secret Invasion and we haven't seen one scene of War Machine. [Insert "It's a bold strategy Cotton. Let's see if it pays off for him." meme here]
Supposedly Marvel is taking a "back-to-basics" approach with the MCU (Marvel Cinematic Universe). Secret Invasion is more of a political thriller, in line with Captain America: Winter Soldier.  The six-episode Disney+ series is decidedly light on superheroes. Which makes sense, why would you want superheroes in your superhero streaming series?
Fans… and hate watchers might be wondering who'll be helping Nick Fury with stopping the Skrull infiltrators. It's reported Don Cheadle, who has played James Rhodes since Iron Man 2, will not be suiting up as War Machine. Cheadle spoke on his character's "adversarial" presence in the series:
"Rhodey's got a new role in this one. Our very first scene is Rhodey and Nick Fury locking horns. Rhodey isn't an adversary, but he's being more adversarial than they have been before. That's always been Rhodey's cross to bear. Is he going to stay within the confines of being a military man following the chain of command, or is he going outside the box?"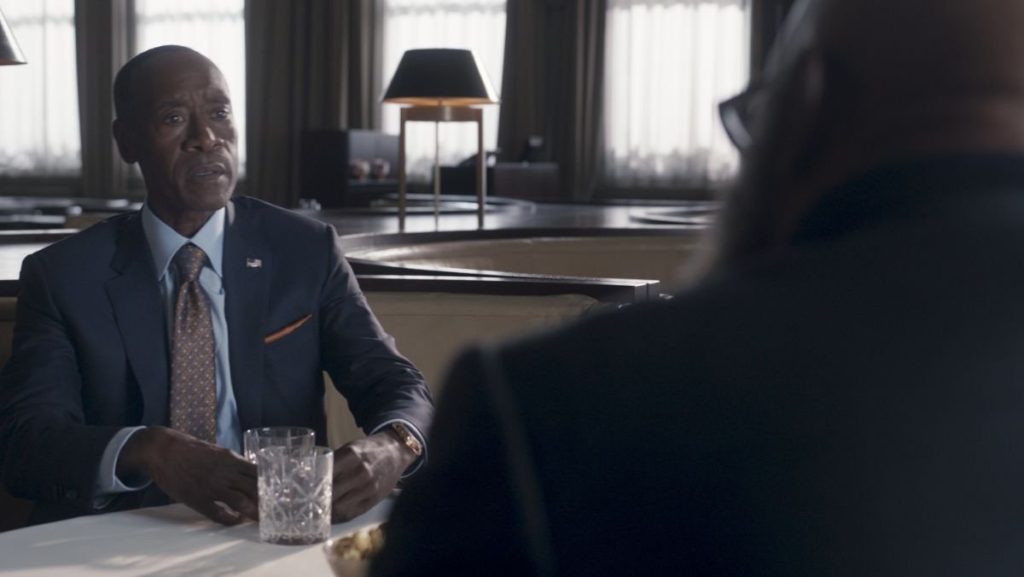 Usually for Rhodes, going "outside of the box" is actually suiting up as War Machine, even at times it's against what the US government wants. This includes situations outside of the suit too. Like when he refused to arrest Steve Rogers at the behest of Secretary Ross, as seen in Avengers: Infinity War.
Going by how the show is going and how characters are being handled. It seems unsurprising that Secret Invasion won't see Rhodey donning the War Machine suit. The show has also stripped Nick Fury of SHEILD Deus ex machina's gadgets. He'll have to rely on his wits and ingenuity this time.
Fury also doesn't want the Avengers involved, fearing them being replaced by Skrulls. Apparently, Skrulls don't see the news, browse social media and live under a rock. It sounds like the laziest excuse to leave out the Avengers. At least it's an excuse. In other movies, they could've shown up to fight together and haven't.
I wouldn't hold my breath waiting for War Machine to show up. Although, it wouldn't be the first time Marvel lied.
Check back every day for movie news and reviews at the Last Movie Outpost