Remember when Pixar was a mark of unquestionable quality? That hopping lamp heralded the arrival of a movie that was guaranteed to be exceptionally well crafted, entertaining, and emotional while pushing expectations about what computer animation was capable of, from both a visual and storytelling point of view. An unparalleled run of success that included the first three Toy Story movies, Up, Finding Nemo, Monsters Inc., and Inside Out made them seem unstoppable.
Then the wheels fell off, spectacularly. Who the hell remembers anything about Luca, Soul, Coco, or Onward? Exactly. This is before we even get to heavy-handed menstruation metaphor Turning Red.
This losing streak looks set to continue, as Pixar's latest effort is tracking low and has got decidedly weak reviews. The movie was screened at Cannes this week. Set in Element City, it tells the story of Ember. She is a quick-witted, fiery woman who has always stayed close to home in Firetown. She finally ventures out of her comfort zone to explore, and meets a go-with-the-flow guy named Wade. Cue many opportunities for not at all subtle moralizing about how much we all actually have in common after all. Leah Lewis and Mamoudou Athie voice the leads.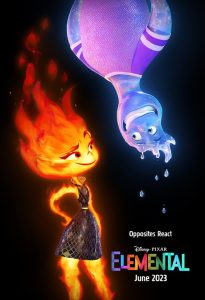 If Disney and Pixar were hoping that Elemental was going to let them put the unmitigated disaster that was Lightyear behind them, they are in for a shock. Financially, the film is currently tracking for a $40 million opening weekend. This puts it in The Good Dinosaur and Onward territory. A bad, bad place. The reviews won't save it either. Elemental has a 57% critical approval rating on Rotten Tomatoes thus far – that's the second-lowest score for a Pixar film to date behind only Cars 2 at 40%. Here is a sample of reviews:
"I reckon there are more ideas per second of screentime in 'Elemental' than any other Pixar movie to date. So why does this imagination-teasing opposites-attract rom-com feel like a misfire?"
Peter DeBruge, Variety
"As conflicted as they come: a heavy-handed, mixed-bag immigrant metaphor punctuated by a genuinely moving romance. It gets frequently lost down the rabbit hole of its own conceptual details but yields occasionally stunning images and thoughtful aesthetics"
Siddhant Adlakha, IndieWire
"The elements all fit perfectly into place – so much so that the creative flames are doused, and we're left without much of an impression."
Jordan Mintzer, Hollywood Reporter
"For all Elemental's many charms, this nonsensical film simply doesn't cut the mustard. 2/5"
Jo-Ann Titmarsh, London Evening Standard
Maybe they shouldn't have fired John "The Hugger" Lasseter as it seems like perhaps that handsy bastard was the only one over there who really knew how to make a perfectly crafted story. Elemental arrives in cinemas on June 16th.
Check back every day for movie news and reviews at the Last Movie Outpost