Samuel L. Jackson is in talks to play the US President once again in The Beast. He already played the part of a US President once before, in action thriller Big Game.
That movie revolved around Air Force One crashing in Finland. This time the story revolves the titular "Beast". That is the Secret Service nickname for the Presidential limo.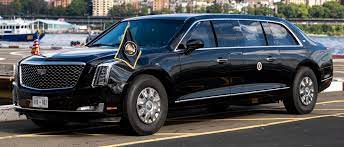 The package is being sold at the Toronto International Film Festival market and Deadline reports a lot of interest.
The project was already set for sale before the strikes so pre-production can continue under the terms of the SAG-AFTRA interim agreement.
The Beast is often talked up by observers as an armor-plated, chemical attack protected, and bomb-proof transporter stocked with weapons and with the President's full detail not far behind.
In the movie, a militia stages a coup against the presidency (oh, Hollywood!) and as a result the President discovers The Beast's full offensive and defensive capabilities. He must learn to control The Beast to save not just himself, but the country as well.
He will be joined by Joel Kinnaman as a Secret Service agent named Taft.
The Meg and Transformers: Rise Of The Beasts second unit director James Madigan helms the film from a screenplay by Umair Aleem.
Check back every day for movie news and reviews at the Last Movie Outpost