A lot of big-time films came out in 1983. It was an eventful year in film with some much-loved and timeless classics hitting the big screen. Return Of The Jedi, Scarface, Risky Business. But we aren't going to talk about any of that boring shit. Today we are going to talk about the Bruno Mattie masterpiece that is Women's Prison Massacre.
The film is of the finest quality sleaze from Italy. Chef's kiss, muah! And with a name like that, you know what you are in for. Do I even need to say it?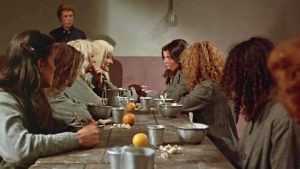 We follow the lead, Emanuelle. No, not that one you pervert. She's a reporter who got too close to uncovering a dirty politician in his drug dealing. She gets framed and thrown in the slammer for her good work. Being a hot, two-fisted strong woman, she doesn't take any shit from the prison pecking order. We see her in constant fights with the staff and a real bitch named Albina. They fight and scratch, constantly mixed in with hot prison lesbianism and full-frontal Italian actress nudity circa 1983.
Unrelated, a gang of death row inmates are on their way to their own prison when some of the gang members who remain outside set up an ambush on the prison transport. It goes sideways and the boys end up busting into the women's prison to take hostages, take cover, and take the questionable virtue of the female inmates. That is when the fun starts, and you get what you were promised in the title.
Now we hit a dilemma. Often times I want to tell you in great detail about the depravity in movies like this. But, on the other hand, I want you to see it with no real idea going in. That's the best way to experience an exploitation film in my opinion. I can't do both so I will just give you a sizzle reel.
One of the gang members uses a blade in his teeth to slice a female guard's throat. We get the strangest sex scene ever, where one of the fellas has sex with Albina where she has given 100% consent, then follows it up by knocking her out with chloroform. We get to see revenge taken on a rapist via razorblade inside the vagina that's better seen than explained. SWAT team deaths, Russian roulette, shotgunning, machine-gunning, face mutilation, rape (of course), lots of blood, and a gut-punch ending that will leave you a little shocked. Hey, what more can you ask for?
Not the finest women's prison exploitation film, but still good and it does deliver on the massacre in the title. If you like Italian exploitation and rip-offsploitation films, the ones from Mattei in particular, you will like this one. It's pretty mean-spirited, no surprise since Claudio Fragasso was a writer on the film. I do recommend it only if you are a fan of sleaze and violence. Grindhouse Releasing has you covered if you want a high-quality BluRay of Women's Prison Massacre. You will have to log in to view this trailer… which means it must be good!
Check back every day for movie news and reviews at the Last Movie Outpost