I have always said that the best horror movie ever made is John Carpenter's  The Thing, but my favorite… and the one I have the most fun watching is Dan O'Bannon's masterpiece – Return of the Living Dead from 1985. The film is sort of a sequel to Night of the Living Dead, but with a twist and played out as a black comedy horror film. Man, does it do it right.
I've talked about it a lot, including on the Livestreams, and reviewed it here at LMO before, so I will skip all that.  Yesterday, I picked up the new 4K Ultra HD release from Shout Factory. The new scan was made from the original last year and it looks amazing. Since it is now the 4th of July holiday, I thought it fitting to mention it.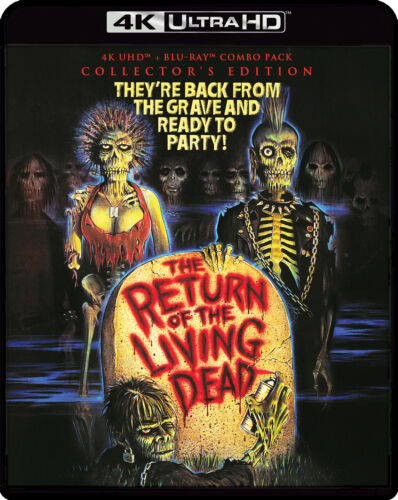 The color and sound and clarity are beautiful. I'm ashamed to say (not really) that I have 3 copies of this film already but this is hands down the superior edition in looks and features. Worth every penny.
Here is the rundown:
Bonus Features for UHD/Blu-ray
DISC ONE (FEATURE FILM – 4K UHD):
NEW 2022 4K Scan Of The Original Camera Negative
In Dolby Vision (HDR 10 Compatible)
DTS-HD Master Audio 5.1, 2.0
Audio Commentary With Gary Smart (Co-author Of The Complete History Of The Return Of The Living Dead) And Chris Griffiths
Audio Commentary With Actors Thom Mathews, John Philbin and Make-up Effects Artist Tony Gardner
Audio Commentary With Director Dan O'Bannon And Production Designer William Stout
Audio Commentary With The Cast And Crew Featuring Production Designer William Stout And Actors Don Calfa, Linnea Quigley, Beverly Randolph, And Allan Trautman
Zombie Subtitles
In Their Own Words – The Zombies Speak
DISC TWO (FEATURE FILM – BLU-RAY):
2022 4K Scan Of The Original Camera Negative
DTS-HD Master Audio 5.1, 2.0
Audio Commentary With Gary Smart (Co-author Of The Complete History Of The Return Of The Living Dead) And Chris Griffiths
Audio Commentary With Actors Thom Mathews, John Philbin and Make-up Effects Artist Tony Gardner
Audio Commentary With Director Dan O'Bannon And Production Designer William Stout
Audio Commentary With The Cast And Crew Featuring Production Designer William Stout And Actors Don Calfa, Linnea Quigley, Beverly Randolph, And Allan Trautman
The Decade Of Darkness – Featurette On '80s Horror Films
Theatrical Trailers
TV Spots
Still Gallery – Posters, Lobby Cards, Movie Stills and Behind-The-Scenes Photos
Still Gallery – Behind-The-Scenes Photos From Special Make-up Effects Artist Kenny Myers' Personal Collection
Zombie Subtitles
In Their Own Words – The Zombies Speak
DISC THREE (SPECIAL FEATURES – BLU-RAY):
The Return Of The Living Dead Workprint – Includes 20 minutes Of Additional Footage (In Standard Definition)
More Brains: A Return To The Living Dead – The Definitive Documentary On The Return Of The Living Dead
The FX Of The Return Living Dead – With Production Designer William Stout, FX Make-up Artists William Munns, Tony Gardner, Kenny Myers And Craig Caton-Largnet, Visual Effects Artists Bret Mixon And Gene Warren Jr. (Expanded Version)
Party Time: The Music Of The Return Of The Living Dead – With Music Consultants Budd Carr And Steve Pross And Soundtrack Artists Plus Musicians (Expanded Version)
The Origins Of The Living Dead – An Interview With John A. Russo
The Return Of The Living Dead: The Dead Have Risen – Interviews With Cast Members Clu Gulager, James Karen, Don Calfa, Thom Mathews, Beverly Randolph, Linnea Quigley And More…
Designing The Dead – Interviews With Writer/Director Dan O'Bannon And Production Designer William Stout
HORROR'S HALLOWED GROUNDS – Revisiting The Locations Of The Film
A Conversation With Dan O'Bannon – His Final Interview
DISCS
2
RUN-TIME
91 min
ASPECT RATIO
1.85:1
COLOR
Color
LANGUAGE
English
REGION
Region A
RATING
R
PRODUCTION DATE
1985
CLOSED-CAPTIONED
No
SUBTITLES
English