Sheroes is an upcoming action thriller movie by writer Jordan Gertner (Spring Breakers). The R-rated movie is his feature directorial debut.
"Isabelle Fuhrman (Orphan: First Kill), Sasha Luss (Anna), Wallis Day (Batwoman), and Skai Jackson (Bunk'd) star in the ultimate adrenaline-fueled thrill ride from a producer of Spring Breakers. When four thick-as-thieves friends arrive in Thailand for a hedonistic adventure, they quickly find themselves in over their heads when one of them is kidnapped by a notorious drug lord. As they fight to stay alive and protect each other, they'll employ their unique set of skills and unleash their fierce loyalty in a heart-pumping battle for survival."
The guys over at ComingSoon had the exclusive debut of the poster for the upcoming movie, and here it is:
Straight away, we are reminded of something else. The arrangement, the ordering of the characters, the locked-on stares. Something that didn't go too well.  Something that the main consumers of action cinema – people like a lot of our Outposters – were told to stay away from as it wasn't for us. That something grossed about $73 million on a $55 million budget. Ooops!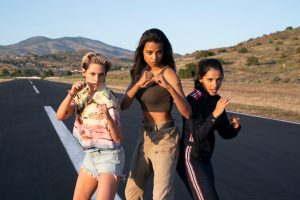 Also, fairly immediately, you can start to form some potential conclusions about this effort. It all seems to scream Girlboss, and once again looks like Hollywood's long-forgotten ability to write interesting and strong female characters might be rearing its head again. There are a lot of assumptions here, and a lot to unpack. We may be being entirely unfair, but with previous experience based on a long time watching this stuff, it is natural to see these signs.
What we suspect here is that the inner strength, character, and capability of Princess Leia, Ellen Ripley, and even Judi Dench's M, is going to be a distant memory and replaced by the Girlboss flex. The poster and the released image give them one look – the rictus,  hard-faced Western woman who means business, portrayed as always on the half turn, signaling their back turned on you as strong and independent needers of no man to take care of their business. If this was in a social media post, all their girlfriends would be poking fun at their "resting bitch face", but here it is meant to be a symbol of grrrrrrl power.
Meanwhile, they are dressed in a laser focussed way to show just enough sexiness but never surrender to the male gaze. Well, except for the black girl who needs to be dressed for nothing but the action business. These are the rules, we didn't write them, Hollywood did. They even have her clutching a bazooka. It appears that in 40 years and even on such a calculated Girlboss effort as this, we still haven't moved past the character of BA Baracus.
Sheroes is distributed by Paramount Global Content Distribution Group with music by Hendric Buenck and Skid Robot. It has a runtime of 91 minutes and is rated R. It will have a limited theatrical release and wide streaming release on June 23rd. Maybe we are being completely unfair and jumping to conclusions? We will see.
While we were writing this, the trailer dropped. Enjoy!
Check back every day for movie news and reviews at the Last Movie Outpost