Oh dear Lord, what have they done? After the staggeringly entertaining third season of Star Trek: Picard just last month, it hasn't taken long for Kurtzman and co. to simply fuck Star Trek straight back into the shitter, as is their style. Exhibit A is the latest trailer for season 2 of Star Trek: Strange New Worlds.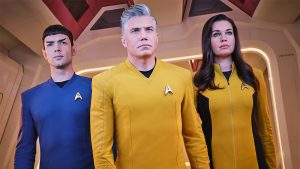 Picard had respectful use of Trek lore, propelling characters along as they behaved in believable and appropriate ways for officers in Starfleet. Strange New Worlds appears to be continuing the tone from the abomination that was Discovery. The Enterprise now appears to be just a tin can full of unlikeable and insufferable Millennial and Gen-Z bell-ends being obnoxious, in space. Please can somebody who understands Star Trek take over now and make it stop? Let the adults back into the writer's room, please?
Here we get sarcastic comebacks, Spock appearing to do some kind of dance, college campus-level banter, and many people looking way too pleased with themselves considering the pile of shit they are starring in. We also get Jack Quaid as Boimler and Tawny Newsome as Mariner reprising the characters they voice on the animated comedy Star Trek: Lower Decks, so we have that to look forward to (end sarcasm).
It will be ten episodes long, and returns on June 15th to Paramount+. The series stars Rebecca Romijn as Una 'Number One' Chin-Riley, Ethan Peck as Science Officer Spock, Jess Bush as Nurse Christine Chapel, Christina Chong as La'an Noonien-Singh, Celia Rose Gooding as Nyota Uhura, Babs Olusanmokun as Dr. M'Benga, Melissa Navia as Lt. Erica Ortegas, Carol Kane as new Chief Engineer Pelial, and Paul Wesley as James T. Kirk. The show has already been officially renewed for a ten-episode third season.
Now how about they boldly go and get somebody who knows what they are doing to run this shitshow?
Check back every day for movie news and reviews at the Last Movie Outpost