Before she became a tabloid fixture, progressive culture warrior, and a temporary member of the British Royal family, Meghan Markle was a television actress with a role in the USA Network's long-running legal drama Suits. The show has been a big hit on Netflix, where it was parked after it ended its network run. It set a viewing time record with 3.14 billion minutes of watch time recorded in just seven days.
Set at a fictional New York City law firm, Suits follows Mike Ross (Patrick J. Adams), who uses his photographic memory to talk his way into a job as an associate working for successful "closer" attorney Harvey Specter (Gabriel Macht), despite being a college dropout who never attended law school (although he has passed the LSAT multiple times as an illegal proxy). Suits focuses on Harvey and Mike winning lawsuits and closing cases, while at the same time hiding Mike's secret. It also features Rick Hoffman as Louis Litt, a neurotic, manipulative, and unscrupulous financial-law partner, Markle as ambitious-and-talented paralegal Rachel Zane, Sarah Rafferty as Harvey's legal secretary and confidante Donna Paulsen, and Gina Torres as the firm's profit-above-all managing partner, Jessica Pearson.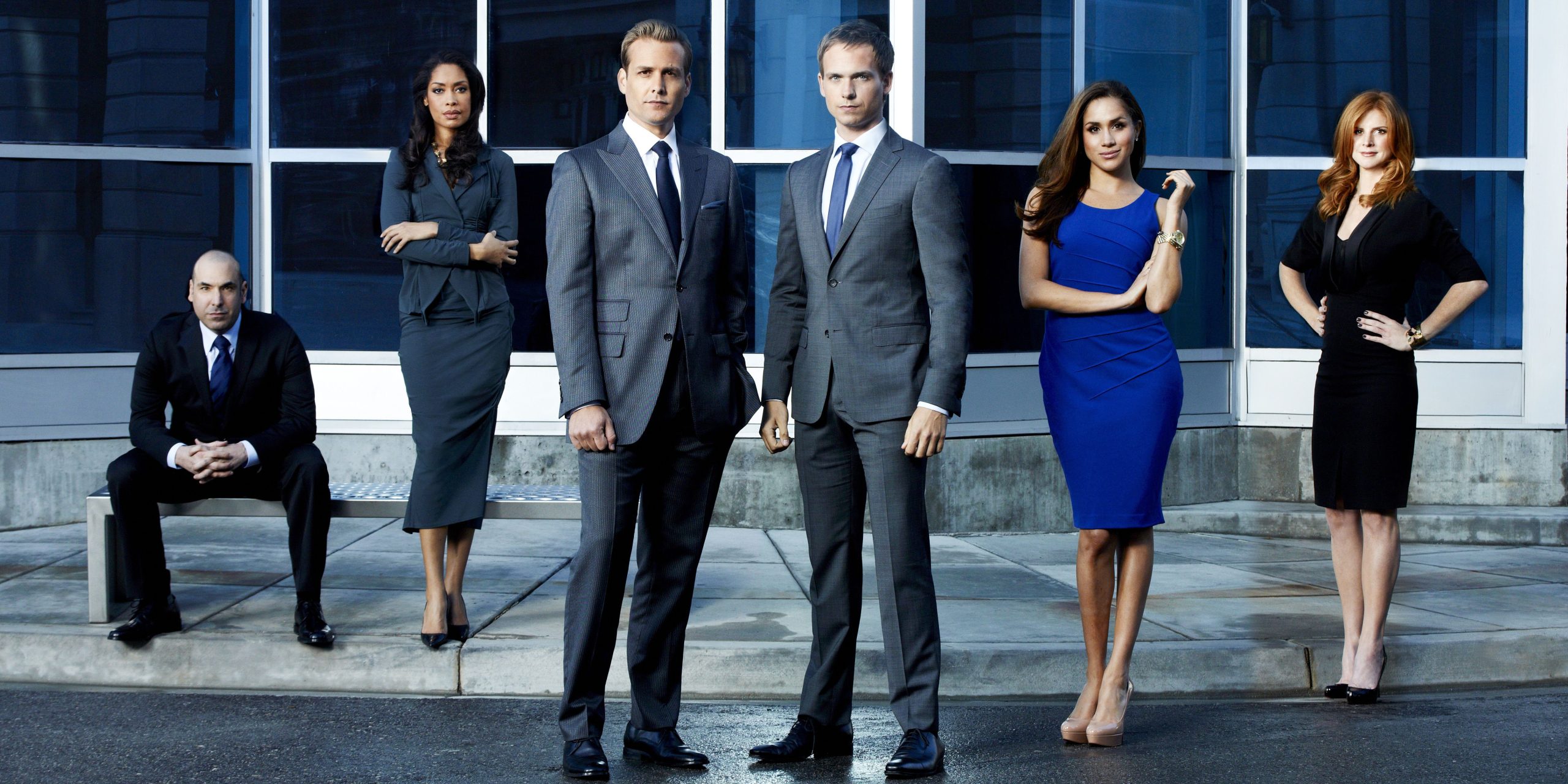 So, of course, people are talking about a Suits revival already. Producer Gene Klein gave an interview to TV Line, where he said no official talks have started, but he has had a conversation with his producing partner:
"You know, I've mentioned to Aaron that I keep, in this era of reboots and reunions and all this other stuff, that I'm expecting a call at some point. But I'm not aware of any serious conversations.

It's just one of those things where, in this day and age, you wouldn't be surprised if somebody called you someday. But so far, nothing that I'm aware of.

As you might remember, it was a complicated dance keeping everybody involved, getting all the actors deals done and keeping them involved through the end of the show. I'd be surprised if we could thread that needle for a reunion, but I'd also be delighted if that happened because [when] you do a show for that long, everybody becomes such a good friend.

A lot of us saw each other a month or so ago because there was a Suits-themed picket at Fox one day, and a lot of the writers, some of whom didn't know each other because people were on Seasons 1 and 2, but not the later seasons, so some of the writers were meeting for the first time. But a lot of the actors came to that as well."
The show featured a typical ending, with multiple characters going their separate ways to start a new life. Some moved to Seattle, some to Chicago, Louis was left in charge of the New York firm, and Meghan Markle went off to annoy the British.
The entire run of Suits is now available on Netflix.
Check back every day for movie news and reviews at the Last Movie Outpost