The movie-going summer is almost upon us. High season. There is a lot to look forward to or, for the more cynical Outposters, perhaps lots to dread. The word on Indiana Jones And The Dial Of Destiny is not good. The word on The Flash, however, is very strong. Rumors of test screening scores being off the charts were dismissed by cynics as studio trickery.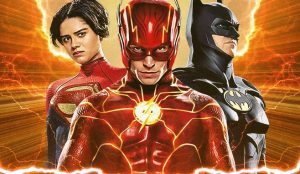 Then came a screening for exhibitors at CinemaCon and the word was given – Warner Bros. has actually done it. The reason they didn't throw malfunctioning Ezra under the bus and head for a tax write-off is that they have a great movie on their hands. Even author Stephen King chimed in on Twitter two days ago, saying:
"I got an advance screening of THE FLASH today. As a rule I don't care a lot for superhero movies, but this one is special. It's heartfelt, funny, and eye-popping. I loved it."
James Gunn responded, talking about a movie that wasn't made on his watch at DC, with:
"Hell yes it is!"
Now the studio has released a new featurette about Keaton's return as Batman and blends footage from the trailers along with plenty of behind-the-scenes clips of Keaton on set at work in the suit, along with commentary from the director and his producer wife.
In The Flash, Barry's attempt to save his family inadvertently alters the future and Barry becomes trapped in a reality in which General Zod (Michael Shannon) has returned, threatening annihilation, and there are no Super Heroes to turn to in order to stop him. Barry has to coax a very different Batman out of retirement and rescue an imprisoned Kryptonian, not the one Barry was looking for.
The first long-range box-office projections are out, and it is good news for Warner Bros. These very positive reactions out of early screenings are building a social media buzz and Father's Day falls the weekend of release. Who wants to go to the theaters to see Keaton return as Batman? Fathers. People about our age. It's almost as if the studio knew what it was doing with this. Maybe not everyone in that town is a dribbling idiot after all?
The very early tracking suggests a domestic opening weekend debut in the $115-140 million range, which puts it moving towards Man Of Steel and Batman Vs. Superman. Not bad if it is essentially the bookend to a dead franchise, a franchise in which the last installment (Shazam 2) was DoA.
The Flash opens in cinemas on June 16th, and then we will see.
Check back every day for movie news and reviews at the Last Movie Outpost