The screening results are good, yet the cynicism and cape-fatigue remain high. In a little over two weeks, we will know one way or the other. As the long, long, long, long-awaited movie inches closer to release, Warner Bros. Pictures has released the final trailer for The Flash.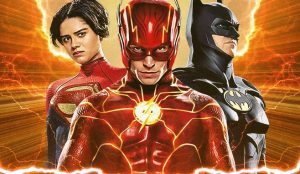 Seriously, it feels like we have been talking about this movie forever. Justice League was more than six years ago. In the meantime directors changed, COVID hit, wars started, the Snyder Cut was released, Star Wars failed again, and after all that the Andy Muschietti-directed movie is finally seeing the light of day.
The trailer confirms that Jeremy Irons is back as Alfred Pennyworth, which just makes us ask exactly why Wonder Woman and Superman cameos had to be deleted? It seems simply mean. If this really does close the door completely on the Snyder-verse then at least let people say goodbye, right?
This trailer shows off a lot more of the plot, which seems to begin when Barry Allen (Ezra Miller) uses his superpowers to travel back in time in order to change the events of the past. When his attempt to save his family inadvertently alters the future, Barry becomes trapped in a reality in which General Zod (Michael Shannon) has returned but there is no Superman to stop him this time.
The film stars Michael Keaton and Ben Affleck as versions of Bruce Wayne/Batman, Sasha Calle as Supergirl, and Michael Shannon as General Zod. Ron Livingston, Maribel Verdu, Kiersey Clemons, and Antje Traue also star.
The Flash will open in cinemas on June 16th.
Check back every day for movie news and reviews at the Last Movie Outpost