Warner Bros. and DC Studios need this news like a hole in the head. As recently as last week, The Flash was on track for one of the greatest DC movie openings. It was looking at a haul of around $115 million for the opening weekend, according to Box Office Pro. The Flash was the buzz at CinemaCon, and test screenings backed that up, as did early reviews. It looked like they had a surefire hit on their hands. They had even managed to keep Ezra Miller in his padded cell so close to release.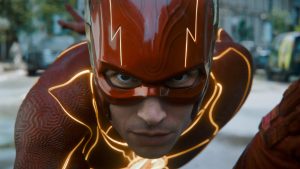 Well, new tracking figures are in, and it's been revised downwards. Quite spectacularly. The Hollywood Reporter brings news that according to their tracking data, the film is pacing to open in the $70 million range. That's bad. How bad? Black Adam bad. The Rock's folly had a $67 million debut.
Shazam! Fury of the Gods barely made a ripple as it cratered. This is bad, bad ju-ju for DC and potentially for cape and tights movies in general. If this is true, the long-predicted end of the domination of the genre may be upon us.
There are two pieces of hope for DC Studios to cling to. Firstly, the big final marketing push is yet to start and there are three weeks of intense activity to go. Secondly, Pixar and Disney's Elemental is tracking even worse. It is looking at $40 million, which is Onward and The Good Dinosaur numbers. Disney needs a hit here, same as DC, after Lightyear and Strange World. So do these new, soft numbers, point to a wider malaise returning to theaters after Top Gun: Maverick and Avatar: The Way Of Water made everyone think things were going to be OK?
Check back every day for movie news and reviews at the Last Movie Outpost