According to an article in Variety, The Flash has a secret ending. There is a single premiere planned for The Flash, without the standard press junkets, and this is to keep the ending under wraps. The version that screened at CinemaCon in April was deliberately cut to leave sections of the final scene missing. Screenings were held at the Warner Bros. lot in Burbank this week, but they too featured blurred-out elements around the final scenes. These scenes were not in any test screenings, and this remains a secret even when a number of surprise cameos have been revealed.
The scenes are rumored to give options for the franchise to continue forward into the new DCU, and to receive a sequel. According to reports the studio has already got a finished sequel script from David Leslie Johnson-McGoldrick, the writer of Aquaman. Those reports also say that Keaton's Batman and Calle's Supergirl both return in that script.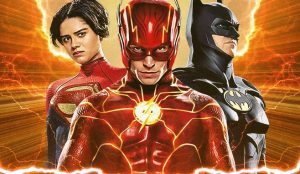 The single premiere will feature the movie's director Andy Muschietti along with stars Ben Affleck, Sasha Calle, and Michael Shannon. Michael Keaton is filming in London. Ezra Miller will continue to do no press and is expected to make one low-profile appearance in Los Angeles at the premiere on June 12th. There will be no interviews, only photos, for Miller.
This follows his arrests and erratic behavior. Since the very public breakdown, Miller has been undergoing treatment for mental health issues.
Instead of a junket, Warner Bros. will host The Flash screenings in key markets, with showings in London, Toronto, Miami, Buenos Aires, Madrid, Sao Paolo, and more, along with a "word-of-mouth" screening program across 400 screens in the US and Canada.
It is currently tracking ahead of 2018's Aquaman, the most commercially successful DCEU movie to date. The Flash opens in cinemas everywhere on June 16th.
Check back every day for movie news and reviews at the Last Movie Outpost