Once again, Outposters have been proved correct. For a while now, down there in the Disqus, you guys have frequently said that in modern Hollywood "The Message" is more important than quality, or even profit. This latest piece of news seemingly proves that. Velma has been renewed on Max for a second season. The renewal was announced at the Annecy International Animation Film Festival yesterday.
The adult animated comedy series based on Scooby Doo starred Mindy Kaling as the voice of Velma Dinkley. The series set out to tell the origin story of her and the Mystery Inc. gang. The animated series became the byword for Hollywood virtue signaling, identarian messaging, and intersectional talking points. It was vapid, shallow, and classically Gen-Z. Everyone with an IQ higher than a glass of water hated it. Even critics, who will usually assume the position and prepare to receive a load for this kind of thing were mixed on it. Audiences pointed, laughed, and abandoned the show in droves.
Scores so bad as to become the stuff of myth and legend followed, with a 7% Rotten Tomatoes score and a 1.3/10 on IMDb. Still, Velma was created by somebody who ticks a lot of Hollywood boxes and who is completely on board with the cultural revolution, so it has been renewed.
Suzanna Makkos (but, of course!), Executive VP of Original Comedy (LOL) and Adult Animation for Max and Adult Swim revealed the news during an interview session.
Executive Producer Mindy Kaling voiced Velma. The cast includes Glenn Howerton, Sam Richardson, Constance Wu, Jane Lynch, Wanda Sykes, Ming-Na Wen, Russell Peters, Melissa Fumero, Stephen Root, Gary Cole, Ken Leung, Cherry Jones, Frank Welker, and 'Weird Al' Yankovic. Charlie Grandy serves as showrunner and executive producer with Howard Klein, and Sam Register alongside Kalling.
The first season was criticized for its shallow sense of humor. As is now standard for entertainment produced by the last couple of generations, it was extremely self-referential, confusing snarky, pseudo-progressive one-liners written by a wannabe girlboss for Twitter as genuine humor. It managed to be racist, sexist, and homophobic, all the while acting like it was cloaked in its own shield of right-thinking, virtuous invulnerability. It was basically the modern progressive movement personified as a TV show. Quite the achievement.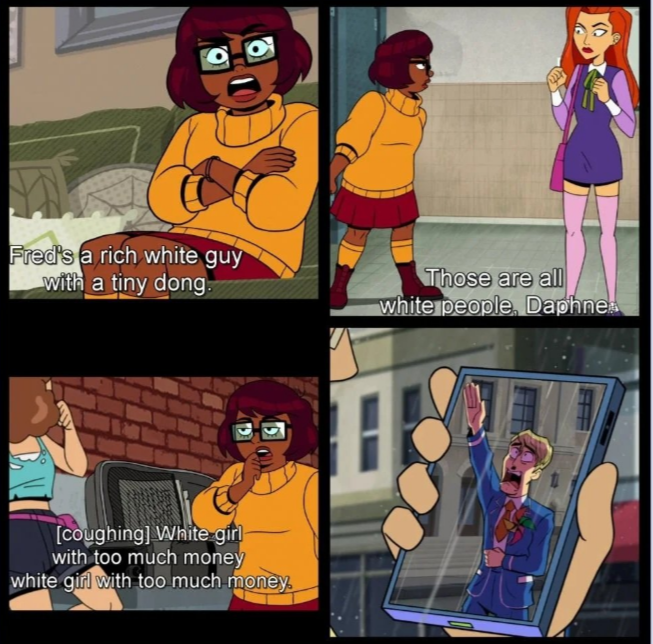 Once again, Outposters are ahead of the curve.
Check back every day for movie news and reviews at the Last Movie Outpost