In a weird move, Warner Bros. Pictures has snared the movie rights to a Marvel comic. The sci-fi story Alien Legion is being planned as a big space opera franchise. Everyone wants on the Rebel Moon train now that superheroes are dying? Stranger things have happened in this town.
The long-running title focused on an intergalactic Nomad force operating under the bureaucratic Galactic Union.  Its characters include leader Sarigar, whose lower half is serpentine, the fully humanoid Torie Montroc, and Jugger Grimrod, an alien of the Thraxian race. The force finds itself thrust into a galaxy that is a melting pot for a myriad of species, with the accompanying tensions this brings.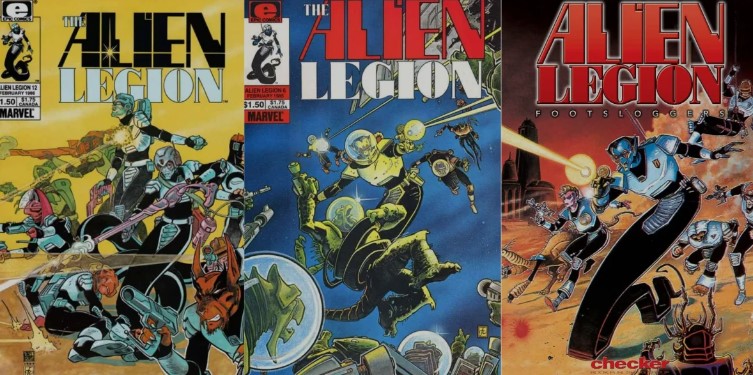 Tim Miller (Deadpool) is attached to direct the project with Aaron Ryder, Don Murphy, and Susan Montford producing. The comic was co-created by Carl Potts, Alan Zelenetz, and Frank Cirocco as part of Epic Comics in 1983. It went on to become the line's longest-running title.
Potts began developing the character designs and structure of Alien Legion as a sample of his artwork when he was attempting to break into the comics field. He chose to develop an original story and characters to stand out from the competition when submitting to editors. Potts says:
The original concept was the 'Foreign Legion in space' and all the legionnaires were human. … Then I created the humanoid/serpentine design that later became Sarigar and decided that the Legion should include a wide variety of species. This was in the early '70s. By the time I got around to developing the idea further in the early '80s, Star Wars obviously became an influence. The Alien Legion universe is a giant extrapolation of the American democratic melting-pot society where different races and cultures work together for the common good while dealing with the pluses and problems that the nation's diversity creates.
In 1995, Potts wrote a screenplay for an Alien Legion television adaptation, which was optioned in 1996 by MGM. Bob Gale (screenwriter of Back to the Future) wrote the pilot script. After MGM stopped development of the series, the property was then optioned by Dimension Films, but the series was canceled due to management changes. Jerry Bruckheimer was attached to produce at one point as well. The rights ultimately reverted to Potts.
Check back every day for movie news and reviews at the Last Movie Outpost