The Last Of Us was a big success for HBO, even if it did feel like it tailed off somewhat in the final third. Everyone knows the game series second installment, The Last of Us Part II, was divisive so many were waiting to see what direction the show would go in for a planned second season. Now the writer's strike is starting to bite across all production schedules and the second season is one of those affected.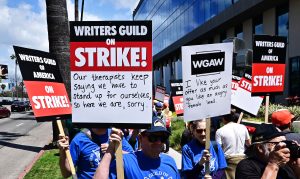 Head of HBO Drama Francesca Orci spoke with Deadline and confirmed that pre-production on the season has been stopped. Episodes were still being written and they can go no further due to the strike. Commentators are saying this strike is likely to be several months long, and that would mean the Q4 2023 filming start is now likely in doubt.
The ripples of the strike are starting t spread now. The Last Of Us isn't the only impacted show. Amazon Studios' live-action Blade Runner 2099 has also been halted. The follow-up to Denis Villeneuve's 2017 sequel Blade Runner 2049 was about to start shooting in Ireland when the plug was pulled due to the strike.
Belfast Harbour Studios was booked out, but the trades now speculate the whole show might be pushed back by a year. Northern Ireland Screen issued a statement:
"Northern Ireland Screen is extremely disappointed that Blade Runner 2099 is not going ahead at this time due to the ongoing writer's strike. The project has been prepping on the ground in Belfast for many months now. The WGA strike has been halting production all over the world and we hope a fair deal is reached soon so crew can get back to work."
The world of movies is not immune, not even a well-oiled machine like the MCU can escape the strikes. Pre-production work on the Blade movie had already been stopped. Now Marvel Studios is doing the same for Thunderbolts. Filming was set to begin in three weeks in Atlanta. The crew was notified yesterday that it is all on hold until the strike has ended.
Thunderbolts and Blade were due to roll cameras ahead of releases in July 2024 and September 2024 respectively. This now has to be in doubt. Marvel has also halted production on its TV series Wonder Man.
Captain America: New World Order has nearly finished shooting and is expected to complete. Deadpool 3 began shooting this week in the U.K. with cast and crew all in situ. A lot of expense will have been eaten for that to suddenly pull production right now. Agatha: Coven of Chaos has been shooting since January so is close to wrap, but Daredevil: Born Again just started so is likely to also be impacted.
As costs go up, but content slips right, the pain will start to be felt in the offices and boardrooms and that is when negotiations are likely to start to move.
Check back every day for movie news and reviews at the Last Movie Outpost