Sony still has a Sony problem. That problem is, that outside of its best-in-class gaming juggernaut PlayStation range, everyone else is doing what they do either faster, cheaper, or better. Nobody pays out for a Sony TV when a Samsung is on the shelf next door. With everything from MP3 players to smartphones, they have just been too damn late, or not fully integrated with the rest of the ecosystem needed to make it market-leading. The PlayStation is their one product line that still stands above the competition. Will Project Q change anything?
Well… at first glance the answer has to be "no", as it is not immediately apparent exactly what it is for. The recent PlayStation showcase highlighted new Spider-Man and Metal Gear Solid Games, while once again showing Sony's ability to arrive at a station hours after the train has already departed with their unveiling of a pair of earbuds. So far, so 2010.
Just when things couldn't get any more surreal, the industrial giant from the land of tentacle porn unveiled Project Q, and everyone watching thought:
"What?"
Project Q is a handheld device that appears to be a DualSense controller split in half with an 8-inch LED screen mounted in the middle, and extra pointlessness added as a feature. This feature is primarily caused by the Project Q not being a portable games console like the PlayStation Vita or PSP. It is not a cloud streaming device. It requires a PS5 and uses Remote Play to access it. So just like numerous smartphones and tablets that have been available for many years then?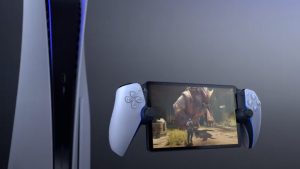 The CEO's nephew on work experience at the firm was clearly humored with their idea, and now it has got a little out of hand and is aimed at the highly niche market of PlayStation 5 gamers who want to use their PS5 but can't actually be bothered to go to where their PS5 is set up to do it. It had better not be too far away, as the Project Q will hold a charge of just 3-4 hours.
Travel back to a time of Apple product launches when Steve Jobs was still alive with the PlayStation showcase, here:
Further details on Project Q are due out later and a release is rumored to be targeting late November.
Check back every day for movie news and reviews at the Last Movie Outpost