Happy 4th July! What better way to celebrate the invention of freedom and democracy for the very first time in all of human history, ever, than by looking overseas to see what happens elsewhere. Take the rather wonderful country of Vietnam. An Asian tiger awakening, with huge, vibrant cities, lush countryside, and beautiful beaches. Incredible food, and friendly people… unless you are Chinese and trying to steal the seas. Then they don't like you at all in Vietnam. Now Warner Bros. Pictures' upcoming Barbie movie has been caught in the crossfire.
According to Variety, the film contains a scene that depicts a map with the controversial 'nine dash line' on display.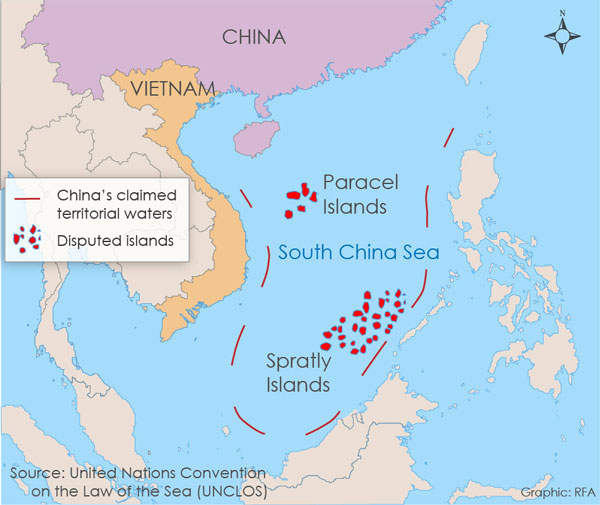 For this unfamiliar, the red line of nine dashes represents China's territorial claims in the South China Sea, which Vietnam says violates its sovereignty. It also violates that of Indonesia, Brunei, and the Philippines among others. China, however, doesn't really care. The U.N. disputes resolution tribunal in The Hague ruled unanimously against the validity of the nine-dash line, so China has simply said it does not recognize the decision.
Yesterday, Vietnam Cinema Department director and Minister of Culture Vi Kien Thanh revealed the National Film Evaluation Council has decided to ban Barbie. According to the state-run Tuoi Tre newspaper:
"We do not grant license for the American movie 'Barbie' to release in Vietnam because it contains the offending image of the nine-dash line."
DreamWorks animated film Abominable in 2019 and Sony's Uncharted were both banned for absolutely the same reason. Hollywood puts the line in movies to appease the Chinese as they are on their knees offering party favors to access the world's fastest-growing cinema market. The Pho lovers simply cannot compete for market size. Forget fairness and honor, Hollywood just wants the money. Remember this next time they are signing letters accusing you of wrongthink.
Barbie will open in cinemas around the world (apart from Vietnam) from July 21st.
Check back every day for movie news and reviews at the Last Movie Outpost