Now things get interesting. After a period of Connery stability, through Goldfinger, Thunderball and You Only Live Twice, the global cinematic icon underwent teething pains. James Bond entered a phase that would not only be referred to as "problematic" today, but would have made a panicked, aimless studio reach for all sorts of emergency measures. Imagine it. Cancellations, reboots, prequels, and retoolings would be the order of the day as executives played musical chairs and directors rotated in and out. For Bond, it meant we got On Her Majesty's Secret Service. Possibly the most challenging 007 production of them all arrives in our Bond On rundown, just as our first tier is full. Things could get heated.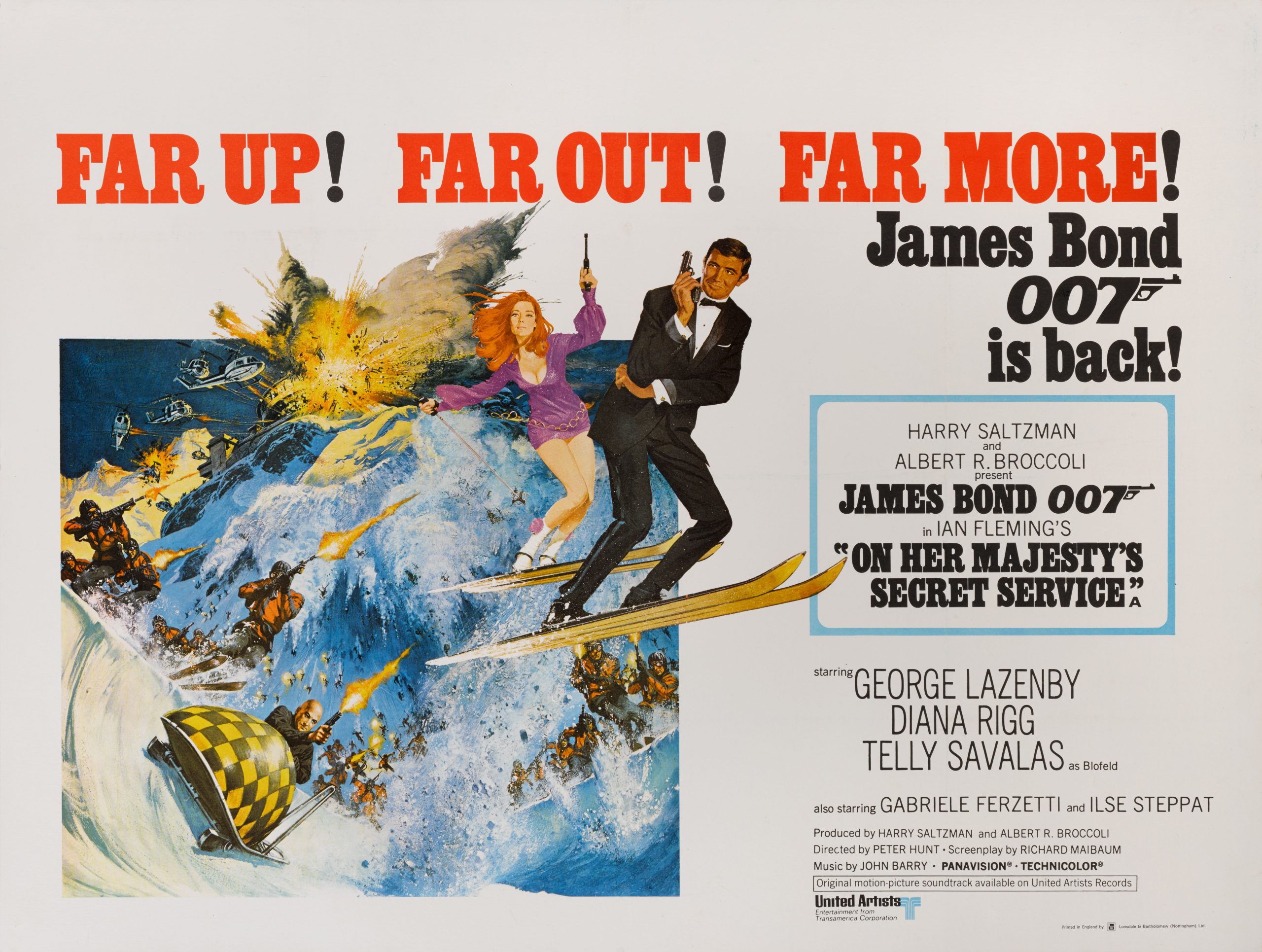 On Her Majesty's Secret Service – Behind The Scenes
In 1967, after five films, Sean Connery resigned from the role of James Bond. He was not on speaking terms with Albert Broccoli during the filming of You Only Live Twice. Always planning ahead, Saltzman and Brocolli had a plan, and they already had a new James Bond in mind. The Man with the Golden Gun was to be shot in Cambodia, and the new Bond was to be an actor you may have heard of: Moore. Roger Moore. Then Cambodia collapsed into political instability, shooting was delayed, and Moore signed up for another series of The Saint.
This left the producers with a challenge, and they returned to what they knew. They originally planned to make On Her Majesty's Secret Service after Goldfinger, and Richard Maibaum already wrote the script. Then Thunderball was filmed instead after the rights battle over the novel was settled with Kevin McClory. On Her Majesty's Secret Service was due to follow, but problems with a warm Swiss winter and inadequate snow cover led to Saltzman and Broccoli postponing the film yet again in favor of You Only Live Twice. Hence, we were forever robbed of seeing Connery tackle a more personal Bond story with heavier emotional beats.
When Moore became unavailable, a global search was launched for a new 007. Over 400 actors, including many of the most famous performers in the Commonwealth, were considered for the role. Broccoli met with Terence Stamp about playing the part. He also expressed an interest in rising star Oliver Reed but decided his public image wasn't right. A promising young actor named Timothy Dalton was asked to audition after his appearance in The Lion in Winter drew rave reviews.
At just 25 years old, and very aware of Connery's shadow, he declined the audition. He would recall this during the press for The Living Daylights:
"I was 24-25 then, I had a good career then as a young man in films like The Lion in Winter, and Mr Broccoli kindly asked me if I was interested. I think I'm just too young for this role. I think Bond should be between 35 and 40, and as a 25 to 26-year-old, I wouldn't have been right."
Eventually, the front runners for the role of Bond were Englishman John Richardson, Dutchman Hans De Vries, Australian Robert Campbell, Scotsman Anthony Rogers, and a Greek actor named Giorgos Fountas. However, a wildcard about to muscle his way, quite literally, into the running. Male model and rookie actor George Lazenby, an Australian, learned they were looking for a new 007. Lazenby got a call from his agent who told him he needed to get to London. She thought Lazenby was perfect for the role of Bond.
"Why is that?" Lazenby asked.
"Your arrogance," she replied.
That lady turned out to be a prophet. Prior to that phone call, Lazenby's highest profile part was a Fry's Chocolate television advertisement.
Lazenby found out that Brocolli got his hair cut at the same barber as Connery at the Dorchester Hotel. He started wearing a Rolex Submariner wristwatch and a Savile Row suit that he bought cheap after Connery ordered it, but did not collect it. Lazenby deliberately encountered Cubby at the Dorchester and in other locations. Broccoli noticed Lazenby as a Bond-type man based on his physique and character.
This stalking culminated in Lazenby staking out Saltzman's office. When the receptionist was distracted, Lazenby bull-rushed his way up the stairs. Saltzman took the intrusion in stride. He was on the phone with his shoes off and his feet up on the desk and bade Lazenby to have a seat. Lazenby decided he wasn't going to sit for a man who had his shoes off, so he looked out the window until the phone call ended. With this move, Lazenby felt he gained Saltzman's respect. An audition soon followed.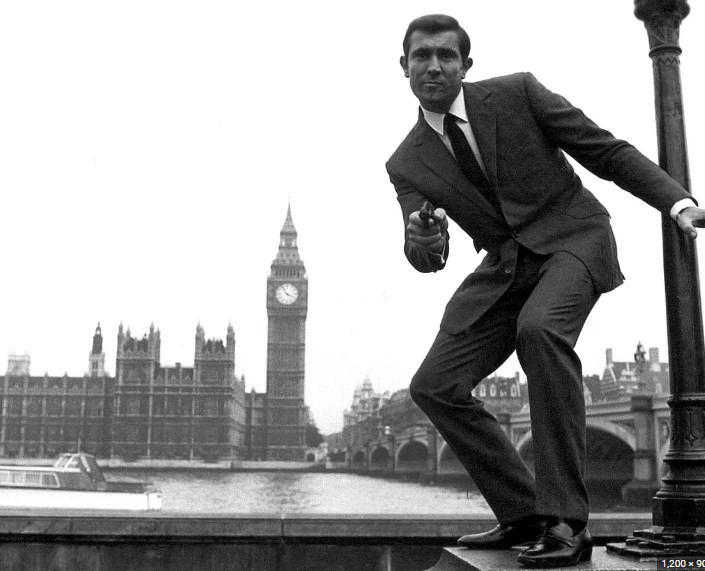 The audition included director Peter Hunt. Hunt had worked on the previous five Bond movies and was made director after Lewis Gilbert declined to return. Peter Hunt was instrumental in establishing the Bond esthetic. His work in the editing room shaped the movies and, by extension, modern action films. After Chitty Chitty Bang Bang, Hunt was ready to move up in the world from editing to directing. Hunt aimed for a more grounded Bond. He believed the gadgets were overemphasized and wanted to focus on character work. He saw no need to deviate much from the source novel. As far as Hunt was concerned, On Her Majesty's Secret Service had it all, and Hunt set out to put his personal stamp on this Bond outing, stating
"I wanted it to be different than any other Bond film would be. It was my film, not anyone else's."
Lazenby met Hunt before his audition. Hunt immediately smelled a rat with Lazenby's claimed movie credits overseas, but he was impressed with Lazenby's sheer chutzpah and how the man had fooled two of the most focused and hard-nosed producers in the movie business in the form of Brocolli and Saltzman. Hunt was confident he would work with Lazenby, but he had a few recommendations. First, Lazenby needed to get rid of his Aussie swagger and walk like Prince Philip. Second, Lazenby had to ditch his thick accent.
Next, all those involved wanted to see how Lazenby did with action. A fight scene was set up against a professional wrestler acting as a stunt coordinator. As soon as the camera rolled, Lazenby waded in and broke the wrestler's nose. Brocolli was impressed with the aggression. While the stuntman laid on the floor with blood oozing out of his face, Saltzman stepped over the man and told Lazenby, "You got the job." A contract for seven films followed.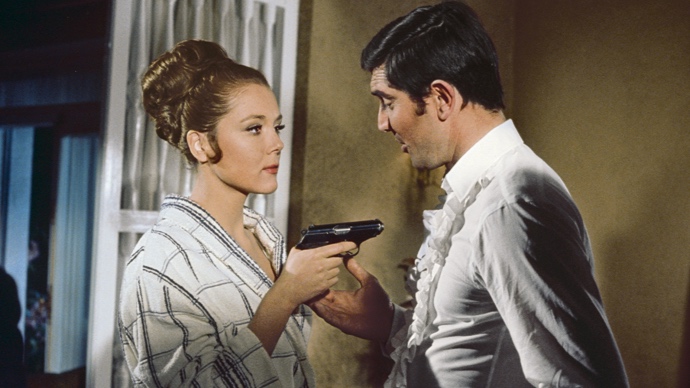 For the essential female lead, the centre of the story and somebody who would have a massive impact on 007, the producers knew they needed an established actress as their leading man was inexperienced. Brigitte Bardot was in talks, but the role eventually went to Diana Rigg, who was popular on television as heroine Emma Peel on The Avengers. 
Maibaum wrote Blofeld with Max Von Sydow in mind. The producers decided to recast as the film required a more physically imposing version of the character. Despite meeting in the previous movie, neither Bond nor Blofeld recognize each other, leading to the first big continuity issue in Bond movies. An earlier version of the script made reference to plastic surgery to account for Blofeld's appearance changing since You Only Live Twice, but this was not taken forward. It was Brocolli who suggested Telly Savalas for the role. With the principal cast set, filming began in Bern, Switzerland in September 1968.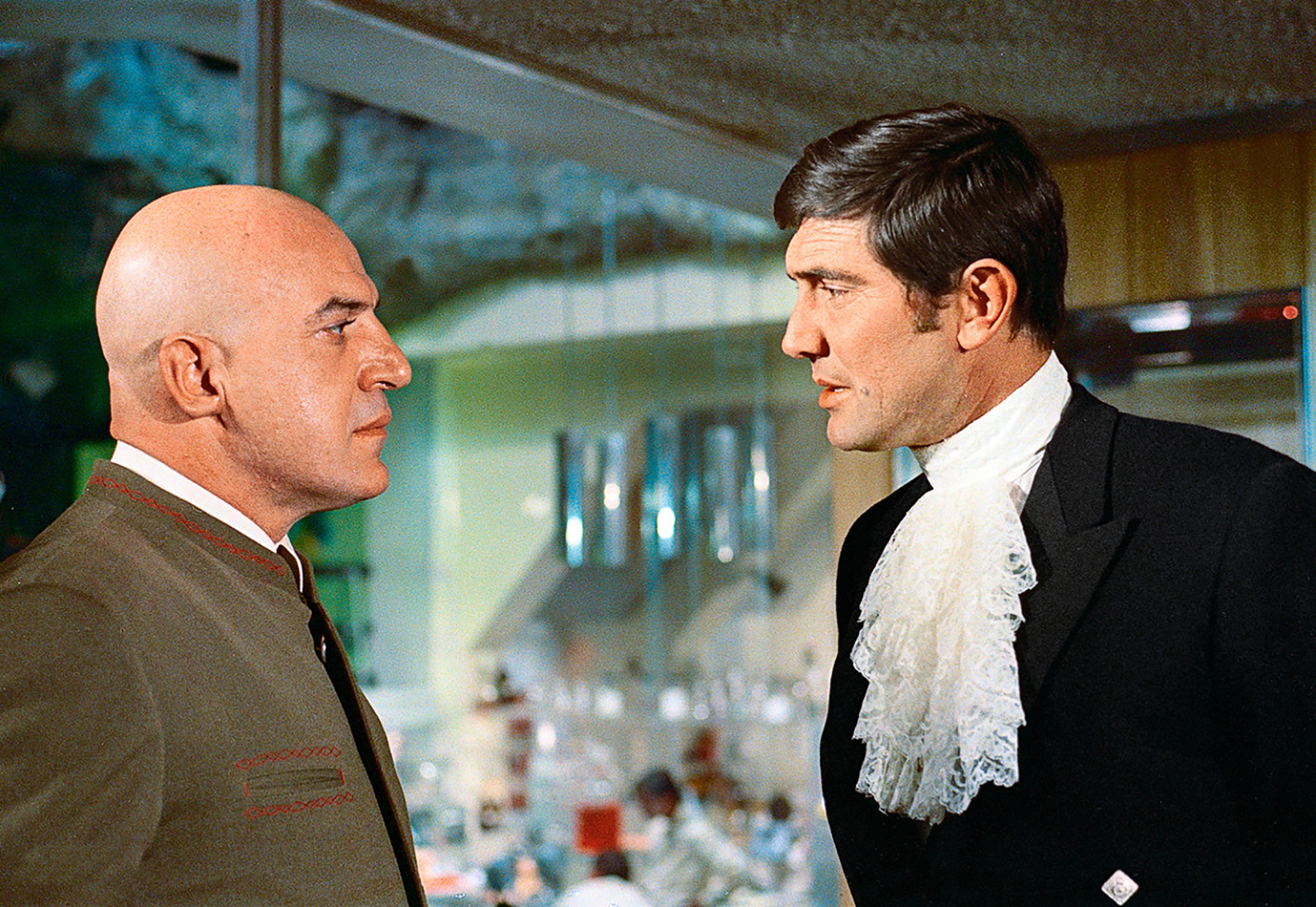 Despite getting the break of a lifetime, Lazenby remained a bit of a loose cannon during filming. Insurance forbade him from skiing for fun. Yet, when Cubby rode on the cable car to Piz Gloria, he looked down and saw Lazenby on the slopes. While filming in Portugal, Lazenby took to horsing around with Bernard Lee, literally. The two went riding together. Their horses were trained for bullfighting, so they were quite nimble. Lazenby had great fun chasing Lee around, but it went too far. Lazenby forced Lee's horse to throw the man into a rose bush, and he got injured. These kind of activities did not amuse Cubby.
For reasons like this, the shooting of the film had a bad vibe. Cubby confided this to his wife, Barbara, who thought a party might be just the thing to build comradery. The party started and everything went great until Lazenby showed up and proceeded to be a sourpuss. "What's wrong," Barbara asked? Lazenby said he never got an invite to the party. Barbara explained that "no one did; the invitation was on the call sheets." Lazenby replied:
"Yeah, but I'm the star…"
Meanwhile, Lazenby also claimed he received very little advice and coaching in the role. Director Peter Hunt disputed this. Rumors of on-set arguments between Lazenby and Rigg were also gossiped about but are said to be grossly exaggerated. The press was always looking for reasons to put Lazenby down. For example, at a dinner party, Rigg heckled Lazenby about a kissing scene they had next day, joking across the room:
"I'm eating garlic!"
Shortly after, newspapers ran stories about how Rigg didn't want to kiss Lazenby so she ate garlic. In actuality, Hunt said Rigg was an ally of Lazenby.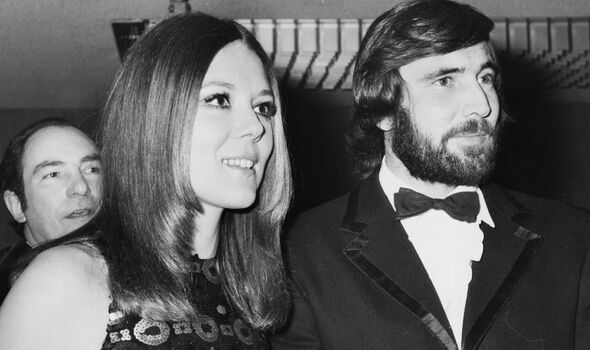 Lazenby wasn't the only one who caused a bit of trouble for producers, however. Telly Savalas enjoyed late nights and often showed up at work with bleary eyes. Nevertheless, he was always professional, Hunt said. One late-night activity Savalas enjoyed was poker. Lazenby had a daily per diem and ended up with a suitcase full of cash. As soon as Telly saw all of that money, he wrangled Lazenby into poker games and promptly won all of the man's cash. This annoyed Saltzman, so he won all of the money back from Savalas, returned it to Lazenby, and told Savalas to leave the man alone.
Despite these issues, On Her Majesty's Secret Service ended up bringing numerous Bond regulars into the fold. It was the first Bond film of John Glen, who went on to direct multiple Bond movies himself. Glen worked in the second unit, and it was easy to see why EON kept him on. He was a bundle of energy and optimism. When people told him it was impossible to film something, he asked, "why?" Then went and filmed it.
Great British stuntman Richard Graydon was also back. Graydon doubled for Lazenby on the cable car wire climb. Graydon had hooks under his hands attached to a hardness under his clothes, so he didn't have to hold up his full weight. Nevertheless, the cable was icy, and Graydon started sliding to the town of Murren three miles below. Fortunately, crewmembers were stationed on the first pylon to stop his descent. Graydon had fewer safety measures in place on the bobsled scenes. The track used had been closed because three men had died on it, but the Bond crew opened it back up for filming. Graydon quickly realized not much skill was involved. He simply held on and hoped he made it to the bottom. As a result, accidents happened. At one point, the bobsled jumped the track, and Graydon took a ride along the edge of the chute. Rather than discarding such footage, it was worked into the movie.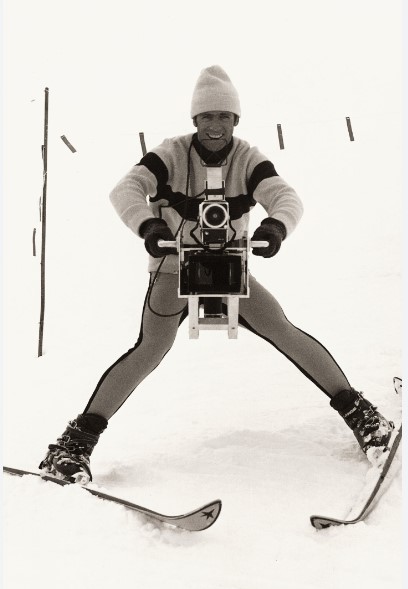 The great skier, Willy Bogner, was brought in to shoot the skiing scenes. Bogner's incredible skills helped make this part of the film stand out. Not only could he carry a camera and follow skiers into tight areas, but Bogner could even ski backward and film people skiing toward him. This kind of ability was so valuable that Bogner was brought back to work on three more Bond movies.
Hunt originally planned to end the film with the crane shot at the close of the wedding scene. Diamonds Are Forever would then use Tracy's murder as the pre-title sequence. Tracy's death was still part of On Her Majesty's Secret Service filming, however. Lazenby actually got tears to flow for the scene. Lazenby said he cried when he read the end of the book, and he was able to tap into that when shooting. Hunt also kept Lazenby waiting to get him worked up and nervous before the scene. However, as soon as Hunt saw the tear roll down Lazenby's cheek, he said…
"Let's try it again. Bond doesn't cry."
Ultimately, a Peter Hunt/Lazenby Diamonds are Forever never happened. Lazenby was, unfortunately, being advised by noted anti-establishment figure Ronan O'Rahilly, who acted as his agent. He was the force behind the noted pirate radio station Radio Caroline and was involved in the London nightclub scene of the late 1960s. O'Rahilly convinced Lazenby that an employee of the government, a secret agent and assassin, would be archaic and out of place in the liberated, free-love era of the 1970s. This must go down as the worst career advice anyone ever received in the history of movies.
As a result, Lazenby turned his back on the seven-picture contract. A series of petty arguments with the producers led to Lazenby growing his hair and turning up to the premiere of On Her Majesty's Secret Service looking unkempt and very un-Bond-like. Lazenby would go on to have lifelong regret over his decision. Plus, fans were robbed of seeing a hard-edged revenge thriller in Diamonds Are Forever with Hunt directing an improving Lazenby as Bond. Below is some fan art from the internet, imagining what might have been…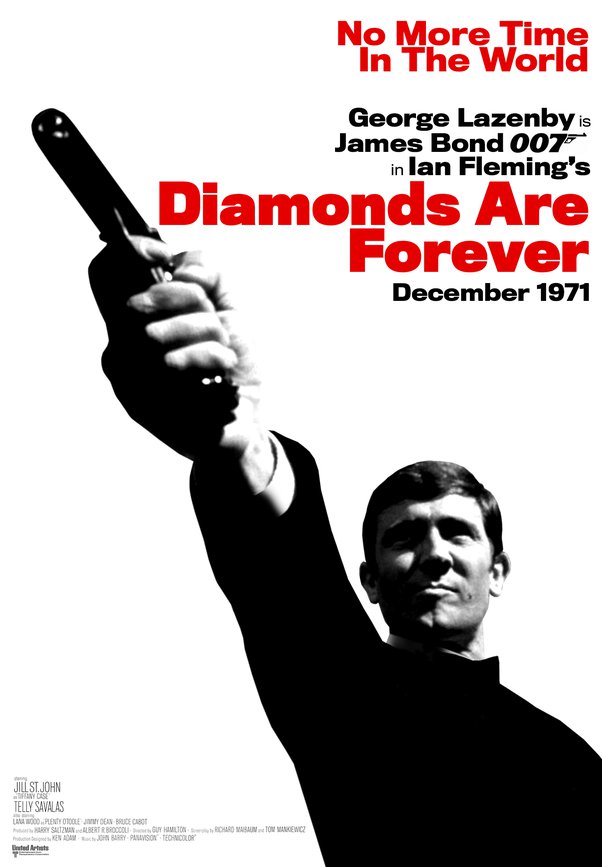 Do You Expect Us To Talk?
Stark: Now this is a Bond movie! One of the greatest? Definitely. The greatest? Possibly. There is a good reason why this movie ranks so highly among Bond fans and also why, over 50 years later, it has undergone a complete reappraisal from its lukewarm original reception. At the time nobody could imagine anyone else but Connery in the role. Here we are, four more actors post-Lazenby as James Bond, and we can be a bit more open-minded.
On Her Majesty's Secret Service has it all, right there, on the screen. It is also one of the most faithful adaptions of a Fleming novel in the entire series. There's a lesson here somewhere for the producers.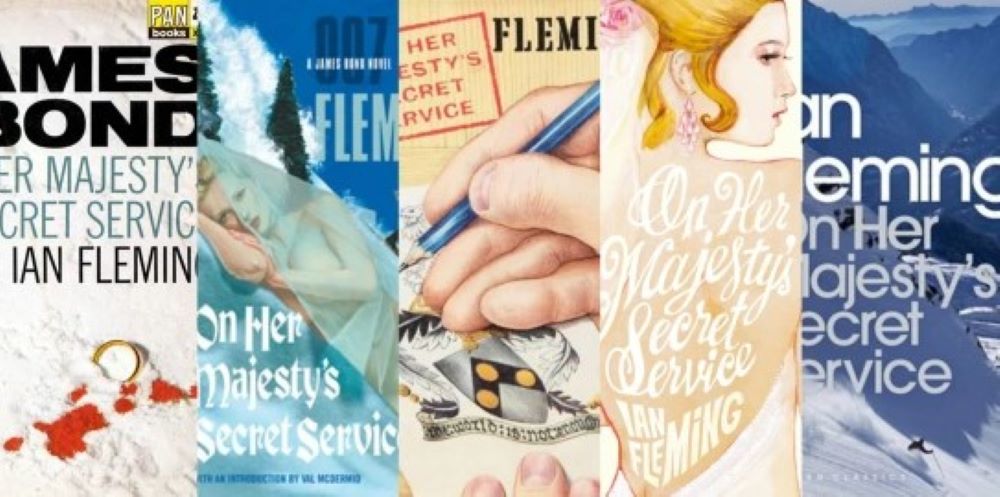 Wrenage: I think of cinema in three ways: flicks, movies, and films. A flick is something like Dracula 2000; a movie is something like Back To The Future; and a film is something like The Godfather. No category is better than the other. They all have their place in the world. Of all the Bond movies, On Her Majesty's Secret Service comes closest to being a film.
Peter Hunt delivered a unique entry in the James Bond franchise. The movie borders on artistic at times and experimental in some of its editing. It is maybe the best filmed Bond. Cinematographer Michael Reed captured beautiful imagery. The screen bursts with scrumptuous colors and scenery. On Her Majesty's Secret Service is also the most 60s-looking Bond. Bond movies before On Her Majesty's Secret Service look vintage, but they don't scream 1960s. Every place Bond goes in On Her Majesty's Secret Service looks positively mod. Plus, he often wears ruffles. One expects Austin Powers to show up.
It's disappointing that Hunt did not do another Bond film. He was asked to direct Live and Let Die, The Spy Who Loved Me, For Your Eyes Only, and Never Say Never Again. He declined. Perhaps, he felt he had given all he could to the series. On Her Majesty's Secret Service was the last Bond film Hunt worked on in any capacity. He ended up directing Charles Bronson in Cannon films.
Ranking And Rating
Let's get to the ratings and rankings. Wrenage and Stark will give their opinions on the Bondian elements found in On Her Majesty's Secret Service and come up with a score and ranking in an attempt to place this appropriately in our league table of all things Bond.
Bond
Stark: This is a tough place to start. It is absolutely true that Lazenby is no Connery, and that is at the heart of most people's criticism of this movie. Yet, hold on for a minute. Lazenby basically bluffed his way into the role with negligible acting experience, but this movie probably asks more of the character of James Bond than any other story in Fleming's catalog, with the possible exception of Casino Royale. The moment you start to look at it from that point of view, I would say Lazenby actually does a better job than he gets credit for. He gets more to do emotionally than any Bond, probably until Dalton.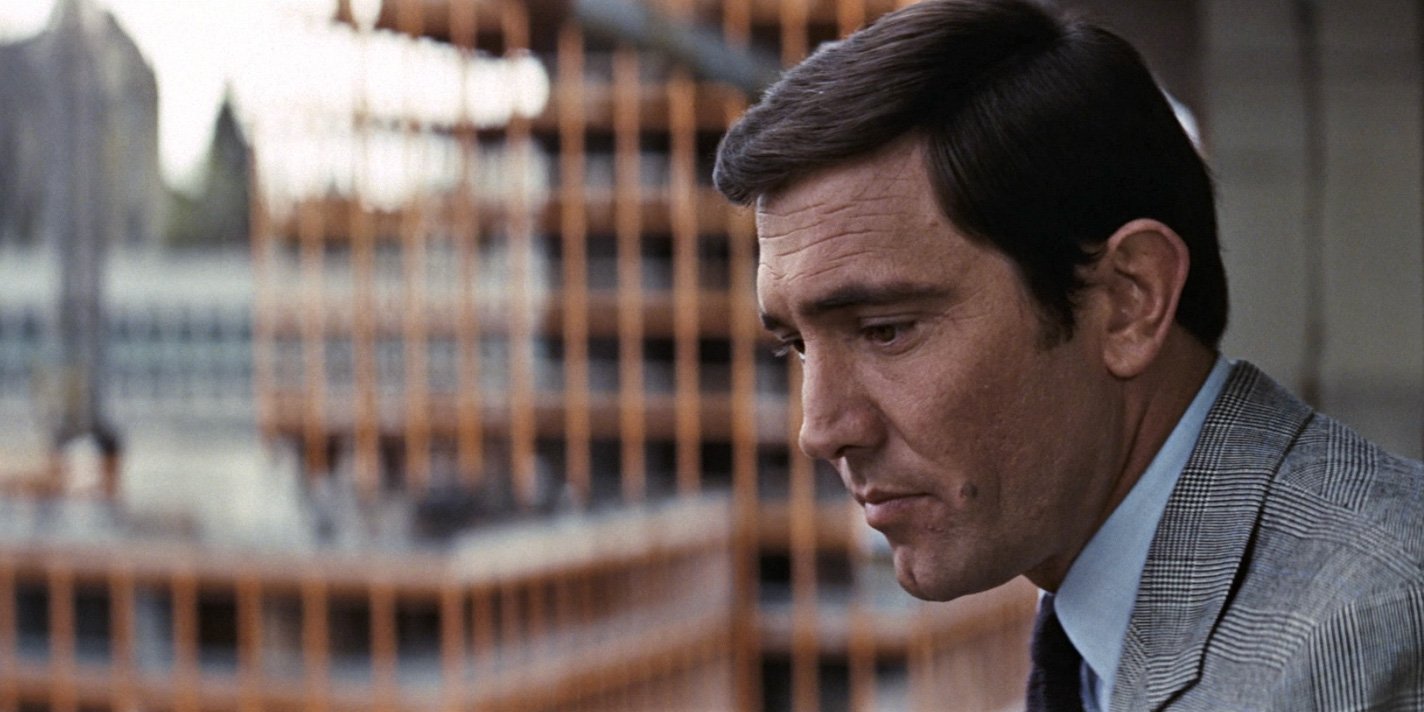 He is also a standout in some of the action scenes, particularly the fights. One of my favorite scenes is the extended escape from Piz Gloria that ends up with Bond being pursued through the town of Lauterbrunnen. He throws everything at trying to get away and raise the alarm about Blofeld's plan. He is defeated, surrounded, and beaten as his escape is closed down, and, at that moment, he absolutely sells it. He realizes how hopeless things are and is genuinely afraid until Tracy finds him.
You also have to give him props for the ending scene. If he had stayed in the role, by the time Diamonds Are Forever and whatever came next for him rolled around, I think we could have seen a fine Bond, as opposed to the answer to a trivia question.
What the hell was his idiot of a manager thinking?
Wrenage: Let's be frank. Lazenby is the worst Bond. That doesn't mean he is unwatchable, however. An acclimation period exists for a viewer watching On Her Majesty's Secret Service. Lazenby seems awkward for the first hour, but by the time Bond gets to Switzerland, one starts to roll with him. Lazenby's lack of acting experience does come through onscreen. You can tell the editor is working around him. The movie regularly cuts away from Lazenby as he delivers dialogue. It's like they couldn't find a believable shot of his face during the line, so they focused the camera on other performers and looped the dialogue.
When it comes to the action, Lazenby is solid. He is sufficiently physical during the fights. His exaggerated uppercut is especially fun.
Honestly, Lazenby would do better in a North By Northwest-style film. He comes of as Cary Grant mistaken for Bond more than he comes off as Bond. Fortunately, the rest of the movie and the actors around Lazenby lift him up, and he ends up serviceable.
Stark: As you say, he grows into the role as the movie progresses. I have no doubt he would have grown into the role quite nicely if he had made more movies. Lazenby was 29 when he shot this movie. 29!! Unbelievable, isn't it? I know Peter Hunt said, in an interview just before his death in 2002, that George was naïve. He often acted the 'star', possibly encouraged to do so by others. Lazenby has himself admitted in interviews over the years that this was a big mistake. Tellingly, EON co-producer Cubby Broccoli became so frustrated at this behavior that he is reported to have said to Lazenby:
"You're only a star when I say you are!"
Wrenage: It would have been fun if the producers threw Lazenby a bone over the years and had him cameo in a Bond movie. For example, Die Another Day would have been a great film to stick him in somewhere. It is not unprecedented. Other actors have played multiple Bond roles, like Charles Gray in the upcoming Diamonds Are Forever, for example.
Bond Girl
Stark: There is not a lot you can't say about Rigg's performance as Tracy. The woman who finally got James Bond to commit, only to be cruelly murdered on their wedding day, is one hell of a role. Yet another example of a woman in a Bond movie who is so far away from a damsel in distress and way ahead of her time.
Wrenage: Diana Rigg kills it in On Her Majesty's Secret Service. She is beautiful, capable and one believes that she is genuinely in love with Bond in a way no other Bond girl has managed. Vesper Lynd is also good in this regard, but we will get to her in the future.
Tracy has a broken quality to her that gives her a tragic arc. Just when she gets to the point where she can finally be happy, it is all wiped away. Throughout On Her Majesty's Secret Service, she is strong, but she never loses her femininity. Even when she gets in a physical altercation, it comes off as reasonable. She isn't beating guys into submission. She is scratching and using broken bottles to even the odds. Plus, she can still be knocked out by a punch to the jaw.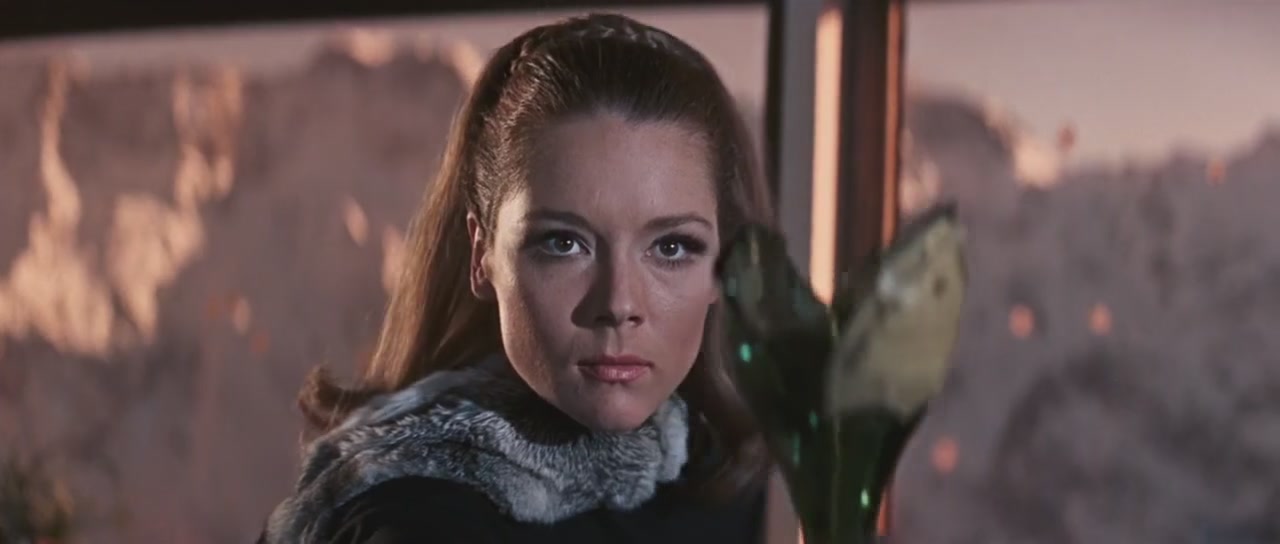 Originally, Tracy was the one who proposed marriage to Bond. Hunt thought Bond should be the one who operates from a position of strength by broaching marriage, however. This was the right call because it also shows that Bond is genuinely in love with her, which elevates his character to a place not explored until Casino Royale.
Diana Rigg's performance is also key in assisting the viewer to accept Lazenby as Bond. If someone as dynamic as Tracy di Vicenzo can fall for Lazenby, then he can't be all bad.
Stark: It is really telling that they chose a proper, classically trained British actress for this outing, rather than some smoking hot Italian model who might have done a tiny bit of television work back home. Tracy carries huge swathes of this movie and, as you say, she sells her belief in Bond, so it makes the audience also believe in him. Smart move by those behind the movie.
Villains
Stark: After being a mysterious figure in the background for the first few movies, and the reveal of Donald Pleasance in the last movie, Blofeld finally feels like a physical threat to Bond, as well as a mental one. I was too young for this to be my first encounter with him. Telly Savalas will always be either Kojak, or a big fan of Birmingham, to me:
Wrenage: Telly Savalas is wonderful as Blofeld. It's a pity he didn't get more screen time. Savalas has a naturally slimy quality to him. Donald Pleasance comes off as a weirdo, but Savalas comes off as a psycho. He seems like he might be a cannibal, too. He always looks on the verge of eating Bond and Tracy up. They folded Savalas's earlobes back for On Her Majesty's Secret Service. Supposedly, this was uncomfortable for him. Maybe he used that discomfort to enhance his performance.
Meanwhile, Irma Bunt gets to be a poor man's Klebb from From Russia With Love. The movie could have used more of her, as well. I liked how Hunt shot Bond's discovery of Bunt in bed like a horror movie reveal.
Stark: Classic Bonds have a classic henchman. Tee-Hee, Jaws, Onatopp, Oddjob, and so on. Bunt was a different direction, but I agree. More of her. She is, after all, the one who pulls the trigger at the very end. In the books she returns in You Only Live Twice, and again in the Raymond Benson short story Blast From The Past. I love that in the 60s, it was still close enough to the war that somebody could be able to play "evil" simply by being German. Good times!
Plot
Stark: The villain's big plan is almost revealed by accident, and I kind of dig that. It is Draco, Tracy's father, who puts Bond on to Blofeld's activities after M removes him from Operation Bedlam (the hunt for Blofeld after the events of Thunderball and You Only Live Twice). This is the same as the book. Thunderball has happened, and at the start of On Her Majesty's Secret Service, Bond has been hunting down Blofeld for such a long time that he is getting bored and frustrated.
Bond imagines dictating his resignation letter to M, and that is when he encounters Tracy. When M removes him, he dictates the letter to Moneypenny, and it is her that changes the letter to a request for leave. This movie is nearly beat for beat from the novel, and it works. Love story first, world-ending plot second.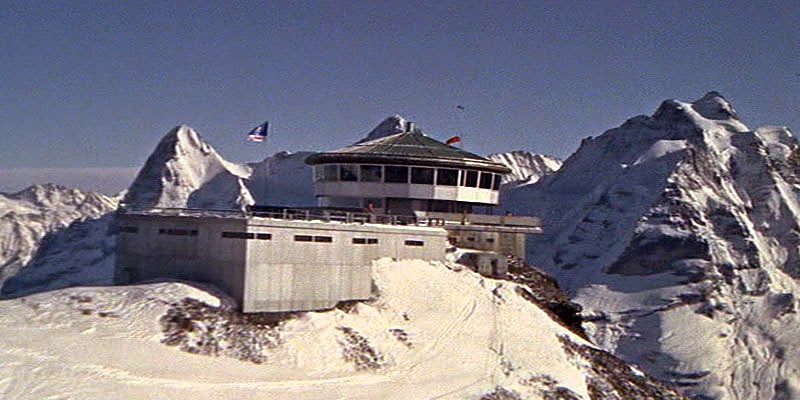 Wrenage: The plot meanders a bit before it locks in. It is somewhat odd upon examination. The foundation of the story is Bond randomly coming across a woman whose criminal father wants to pay him a large dowery to marry her. None of that makes any sense. Yet, one goes along with it. It is another reason that On Her Majesty's Secret Service is different from all of the other Bonds. It is not built on stopping the villain. It is built on a love story that has that odd fairy-tale quality to it. Despite the fact that not much happens for the first hour of the film, it is watchable. The look of the film and Diana Rigg do all of the heavy lifting until things pick up.
Stark: I would say it is highly watchable. Some of the best Fleming stuff until Casino Royale and Craig's time in the role. Some of that look though – "Buzz, your girlfriend, WOOF!" – Tuxedos with ruff shirts. Deep purple wallpaper. My God, the 70s were on their way, weren't they?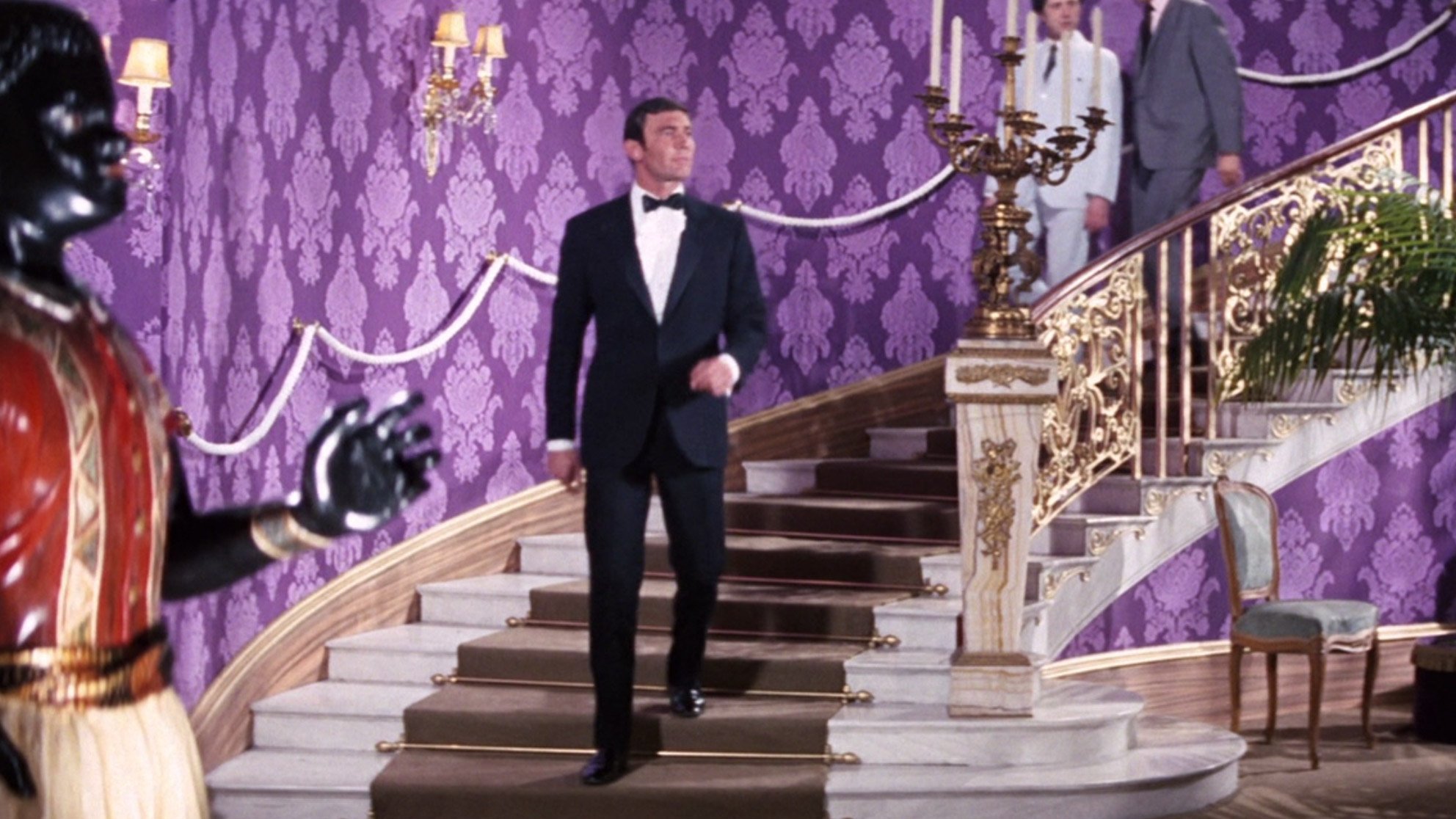 Wrenage: It looks like an LSD trip, that's for sure. I go the opposite way and enjoy all of the eye-popping colors. The film stock of that era could genuinely capture soul. Digital has nothing on it. Even in the screenshot above, Lazenby looks ready to jump out of image and give you a hearty "G'day!"
Action Sequences
Wrenage: As the plot is slow to develop, the action is slow to develop, as well. The only two action beats for the first half of the movie are fist fights. Once the action gets going, On Her Majesty's Secret Service acquits itself nicely. It's got skiing, a fun car chase, shootouts, and a crazy bobsled sequence that comes out of nowhere and gives the viewer their money's worth. The action scenes in On Her Majesty's Secret Service have a different vibe to them. You can tell that all of the years Hunt spent editing films gave him ideas on how to stage action. On Her Majesty's Secret Service was his chance to test all of his theories.
Stark: Bond's escape from Piz Gloria and into the town of Lauterbrunnen is exceptional. The fight in the bell-stacked shed, Bond's increasing desperation as he is thwarted at every turn. His fear, his eventual resignation to hopelessness. This is all top-notch stuff and Lazenby actually sells it. The final assault on Piz Gloria, helped by classic John Barry, is also a highlight.
And, of course, this movie practically invented the modern ski sequence in movies and introduced vast swathes of the world to winter sports in general. Before this, skiing was just something that rich people did in funny countries with lots of hills.
Pre-Title Sequence
Stark: A new approach here. They had the unenviable job of introducing a new 007 so they take their time with the reveal. That is kinda fun.
Wrenage: Nothing overtly special exists about the pre-title sequence story-wise. Yet, it is interestingly shot. Bond is a faceless figure throughout until his reveal. The time of day is also peculiar. It looks like they maybe shot it early morning. Instead of using perfect lighting, Hunt embraced shadows and overexposure, which he used again in the finale.
It's refreshing to watch because we are so used to seeing perfectly-lit movies. The opening has that fairy-tale element I mentioned earlier to it, as well, with a beautiful woman in a dress walking into the sea and a mysterious figure coming to her rescue. It is these little touches that Hunt used to give On Her Majesty's Secret Service a unique feel.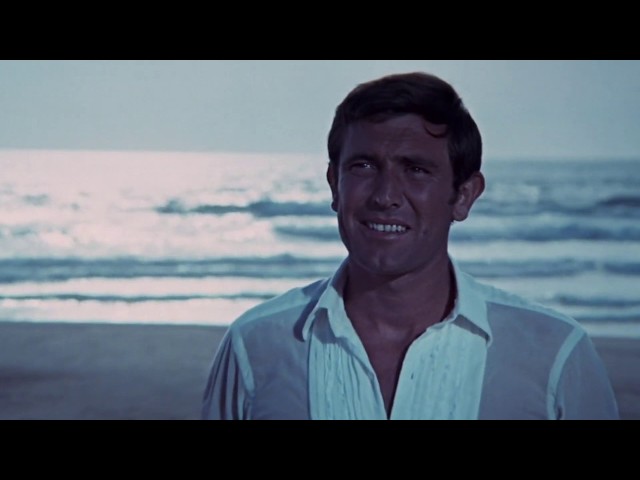 I can't say I'm a fan of Lazenby breaking the fourth wall with his "This never happened to the other fella," line, though. The filmmakers had toyed with all kinds of ways to introduce Bond. Apparently, this line was something Lazenby regularly said on set, and Hunt told him to try it during filming. For whatever reason, this cheeky take was deemed worthy of the final cut. It is stuff like this and some lame quips that keep On Her Majesty's Secret Service from fully entering "film" territory. Too bad they didn't trust themselves enough to play it straighter.
Stark: I agree. It is a strange choice after a tightly-wound sequence that has taken pains to play out as a reveal. It is handled really well and then undermined by that one line. That one line also does more damage that echoes down Bond history — it is pointed at by dribbling retards who push the theory that Bond is a code name, passed from agent to agent, as some kind of proof. A pox on their houses.
Wrenage: I also hate the idea that James Bond is a codename used by various agents. I don't know why this bothers me more than the continuity errors that are created by all of the different actors and films, yet it does. Bond is Bond and only Bond. I guess I look at the continuity errors as redacted information that filmmakers guessed at, or took artistic license with, that may or may not be out of sequence, while making movies of Bond's exploits. One of my favorite things from the Roger Moore era is when he visits Tracy's grave at the beginning of For Your Eyes Only. Knowing that Tracy is part of the history of every Bond gives them dimension.
Stark: The little throwaway mention in Key West in Licence to Kill too…
Theme Song
Stark: All time classic Bond soundtrack. Nothing else to say. And, of course, the melody gets hauntingly used in No Time To Die for good reason, and to great effect.
Wrenage: John Barry's work On Her Majesty's Secret Service is some of his best ever. His instrumental theme is awesome, very jazzy, and driving. If you play it while you motor about, you want to get in a car chase. Meanwhile, Louis Armstrong growls his way through the love theme. Armstrong's work is tough to grade. It's not a poppy song by any means. Yet, it fits the ultimate bittersweetness of the movie quite well.
X-Factor
Stark: It is Lazenby's only Bond movie. It is Hunt's only Bond movie as director. It is the one where Bond marries. It is the most faithful Fleming adaption. It's got all the ticks. And yet… something, just something, stops it from being perfect. Maybe Lazenby as the unfinished article? You can always dream about a fully firing Connery with all this stuff around him? Perhaps the idea of what might have been is the issue?
Wrenage: On Her Majesty's Secret Service contains numerous little moments that stand out. It is fun to visit Bond's office and see some easter eggs from the previous films. I don't think we visit Bond's office again until Die Another Day.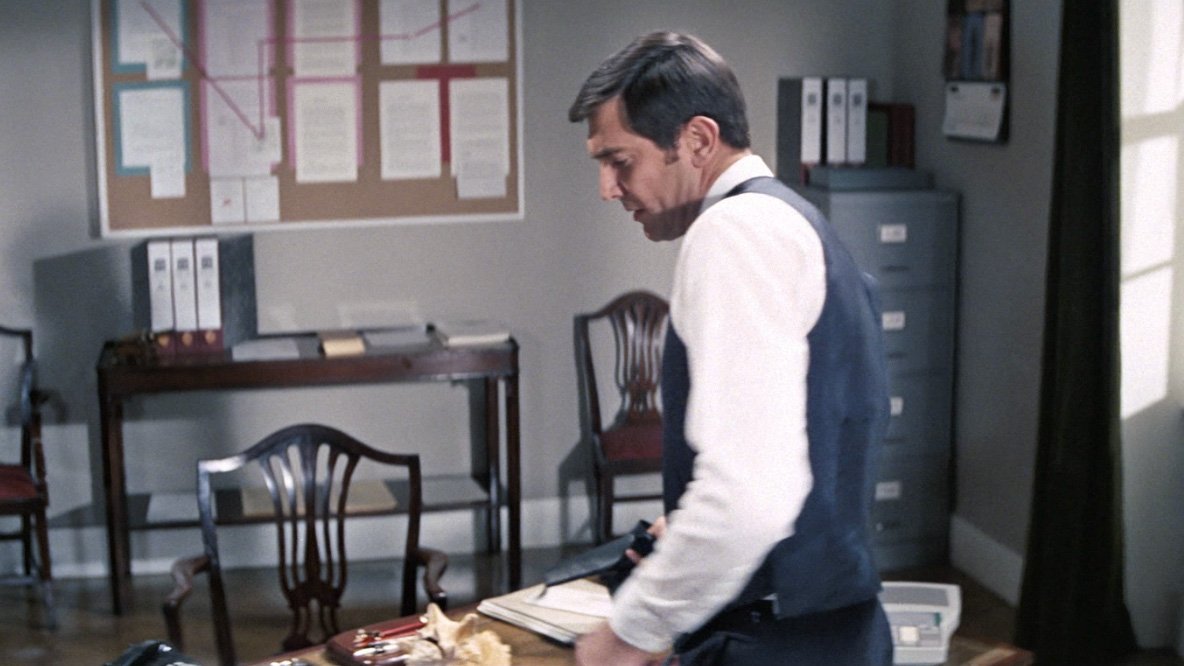 Hunt's little flourishes litter the movie. I especially liked Tracy's reappearance in the film while ice skating. She reappears in the movie like a rescuing angel. Another great moment is when Bond throws his hat to a crying Moneypenny at the wedding. Hunt thought to do that on the spur of the moment. It wasn't written in the script.
And that ending, man. I often lament that the downer ending has become overused. Pretty much every horror movie goes with the downer ending nowadays. The downer ending needs to be used sparingly. On Her Majesty's Secret Service uses it well. The viewer is crushed  by Tracy's death. Plus, it also contributes to the character of Bond far into the future. This is why he is so cavalier in his approach toward women. Love is no longer an option for him. Love is only a means to an end for Queen and Country.
Then that fade out on the bullet hole in the windshield that looks like a rose…masterful!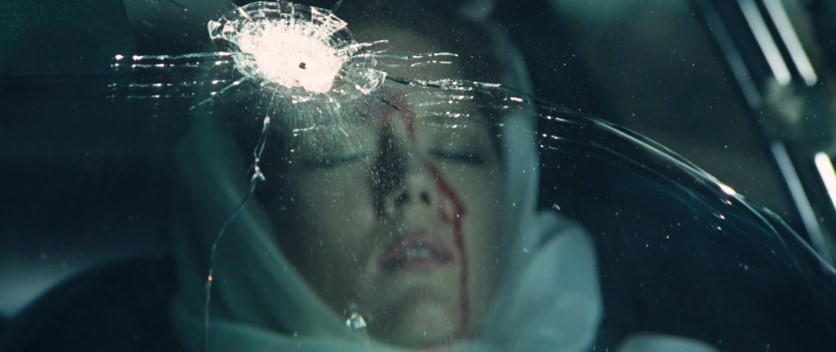 Stark: When you consider we were about to enter the 1970s, and a period where Bond would become something very, very different for a long time, with the benefit of hindsight, I feel we can look back on this movie as a closing chapter. It closes the door on a period where Bond was, compared to other movies at the time, so far ahead of them in almost every regard.
Scoring Breakdown
| | | |
| --- | --- | --- |
| | Stark | Wrenage |
| Bond | 7 | 6 |
| Bond Girl | 9 | 10 |
| Villain | 7 | 7 |
| Plot | 6 | 6 |
| Action Sequences | 9 | 8 |
| Pre-Title Sequence | 7 | 7 |
| Theme Song | 7 | 7 |
| X-Factor | 9 | 10 |
| TOTAL | 61 | 61 |
Stark: I can't believe this is a draw, but looking at the scores you can see where this happens. I am perhaps a bit more charitable about Lazenby given his rookie status and the amount that is asked of the character of Bond. I also take one away from X-Factor, as I said there is something that stops the movie from being perfect.
Wrenage: On Her Majesty's Secret Service is a great entry in the Bond franchise. As time goes on, it almost seems less and less like a Bond movie. It goes away from gadgets and over-the-top elements. It is built on a love story. It is essentially a romance movie with spy and action enhancements. Throw in Lazenby's one-time appearance as Bond, and it lives within its own little pocket in the franchise. I'd actually like to lever it out of the rankings and let it exist as its own special thing.
Stark: We can't do that though! This is your ranking structure. You made the rules here, Wrenage! Of course, this means we have reached an important moment in our journey. The first movie needs to be relegated as the tier has filled up. And unbelievably it is Dr. No that falls down! Goldfinger and You Only Live Twice edge it out? I am still seriously not happy about this. Surely some mistake?
Overall Rankings
First Tier:
From Russia With Love (61.5)
On Her Majesty's Secret Service (61)
Goldfinger (54.5)
Thunderball (53)
You Only Live Twice (51.5)
Second Tier:
Dr. No (49.5)
Third Tier:
(Empty)
Fourth Tier:
(Empty)
That's A Wrap
Stark: I am still staggered by Dr. No being relegated and by this being a score draw. This movie remains something of a controversial one. Some simply dismiss it as that one-off Lazenby thing. The serious lack of exploding space stations and invisible cars means they can't see it for what it is – not just a damn fine Bond movie, but a damn fine movie.
Wrenage: Dr. No dropping out of the first tier is inevitable. I'm surprised that On Her Majesty's Secret Service did not edge out From Russia With Love for the top spot, though. If I had my druthers, the film kicked out of the top tier at this time would probably be Thunderball, but Dr. No is not an unreasonable casualty. Once we get up to No Time To Die, we can make up individual subjective rankings and see how they compare to the official list. For now, we are a slave to our scoring system, not our feelings!
We should get to No Time To Die sometime before our eyeballs fall out, right?
Next time, Stark and Wrenage return just like Connery, but not as well paid. It is Diamonds Are Forever.
Check back every day for movie news and reviews at the Last Movie Outpost