The results are in for our second Film Club, and the winner is Kalifornia. We had 118 votes in total with Kalifornia earning 44 of those. With 118 votes, this is an increase of 23 votes from last week, so well done, and thank you Outposters! Alarmingly though, for a long time, Rape Squad was leading Jaws: The Revenge. Does this mean Jaws: The Revenge is that bad, or that you guys are just a bunch of sickos?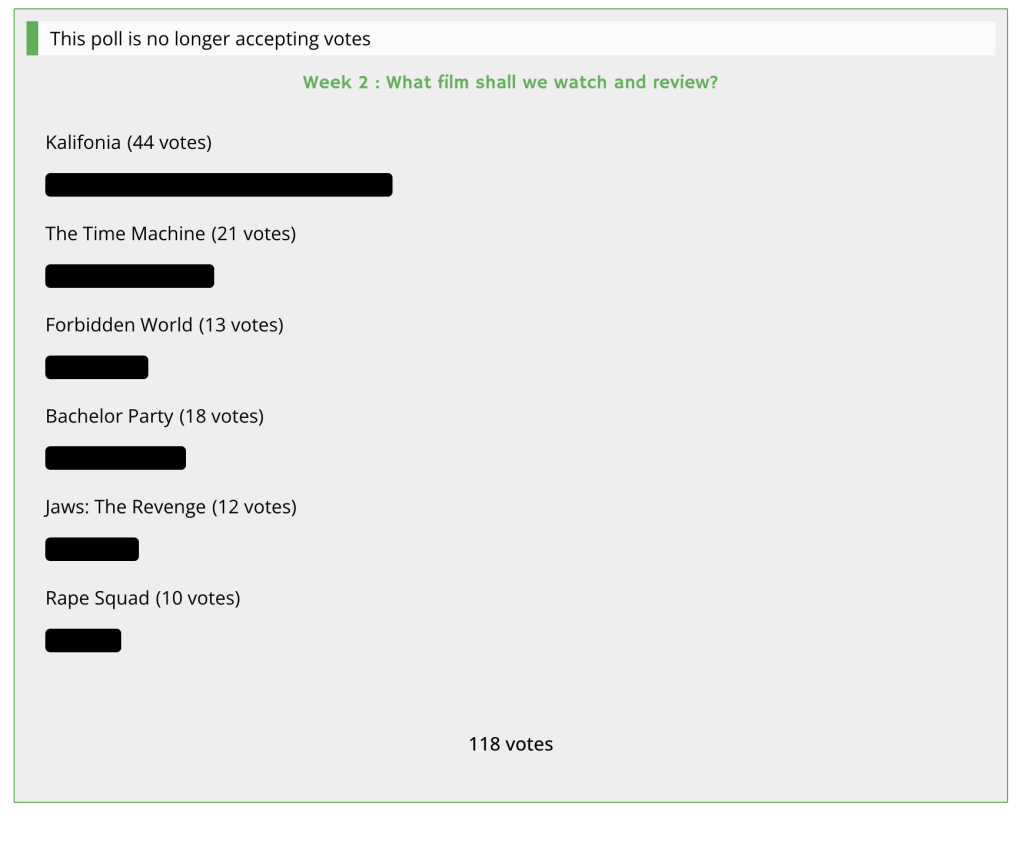 So What Happens Next?
Collaborators and Outposters have until Saturday 29th July (7pm UK, 1pm CST) to watch the movie and send me their reviews. Outposters, send your review with the subject title: Film Club: Kalifornia to: contactus@lastmovieoutpost.com
I'll then combine all the reviews into one glorious article for you all to read on Sunday morning.
We'll discuss the movie in more depth on Sunday's Livestream.
I will also write an article on Sunday asking for your recommendations for Week 3, and we will reveal the new list of recommendations live on air.
Don't worry if you miss the stream, I'll post the list on Sunday night. Voting will start again Sunday evening and close Monday evening.
Rinse and repeat.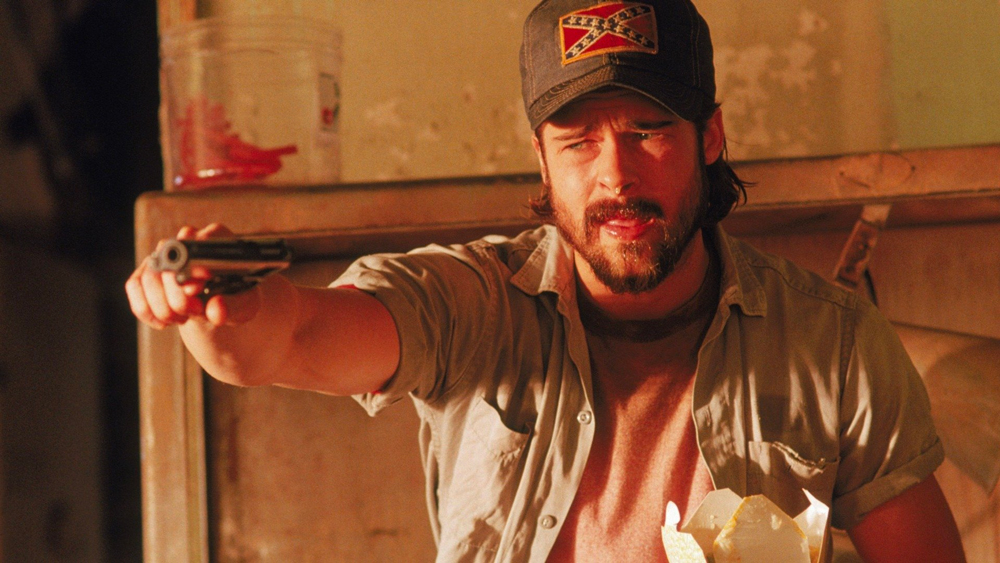 What Is Kalifornia?
Kalifornia is a 1993 American road thriller film starring Brad Pitt, Juliette Lewis, David Duchovny, and Michelle Forbes. The film tells the story of a journalist (Duchovny) and his photographer girlfriend (Forbes) traveling cross-country to research serial killings, who unwittingly carpool with a psychopath (Pitt) and his childlike girlfriend (Lewis).
Filmed in Georgia and rural inland California in the spring of 1993, Kalifornia premiered at the Montreal World Film Festival where it was awarded two competition prizes. It was released theatrically the following week in the United States, but was a box office bomb, grossing $2.4 million against a nearly $9 million budget.
The film received mixed reviews from critics with some praising its art-house sensibility, while others dismissed it as a violent exploitation film. Despite this, the film's acting was largely praised, and critic Roger Ebert heralded the performances of Pitt and Lewis among the best he had ever seen. The film was nominated for three Saturn Awards in 1994, including Best Horror Film.
Watch And Join In
If you are unfamiliar with the movie, have a look at the trailer below. Hopefully, it's enough to make you want to watch it and join in with LMO's Film Club! I would love it if any of you sent a brief review to add to ours on Sunday.
Simply send your review to: contactus@lastmovieoutpost.com with the subject title: Film Club: Kalifornia.
​
Check back every day for movie news and reviews at the Last Movie Outpost