Explosions, crashes, sweaty men fighting, sweaty women fighting, and a complete disregard for the laws of physics. You know what you are signing up for. You love Fambly and Car! If you still achieve wood when thumbing through Cruisin' Style Magazine and followed the Vin Diesel vs. The Rock feud like a woman following Taylor Swift's dating history, then this Friday you will be in a sense of orgasmic bliss – Fast X is here.
Ahead of the big day, Universal Pictures has unveiled the final trailer for Fast X. This is the beginning of the end of the Fast and Furious franchise and is part I of a two-part finale that has recently been rumored to be growing to three parts. The early reviews were good for this. There is mention of a shocking cliffhanger ending, as the gang battle Dante, the son of nefarious Brazilian drug kingpin Hernan Reyes from the streets of Los Angeles to the catacombs of Rome, from Brazil to London, and from Portugal to Antarctica.
New allies will be forged, and old enemies will resurface. Many fambly will love or loss, many car will dent, much physic, many sweat. Vests will be dirty.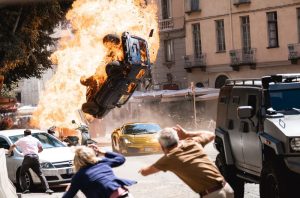 Jason Momoa is the bad guy hunting returnees Vin Diesel, Jordana Brewster, Tyrese Gibson, one who calls himself Ludacris, Nathalie Emmanuel, Sung Kang, John Cena, Charlize Theron, Cardi B, Helen Mirren, Michael Rooker, and Scott Eastwood. Bree Larson, Daniela Melchior, Rita Moreno, and Alan Ritchson are new joiners.
Fast X will hit cinemas this Friday. Gentlemen… inflate your airbags!
Check back every day for movie news and reviews at the Last Movie Outpost