It has been quite a week for Marvel and MCU rumors. First, a potential leak about the main cast of Fantastic Four blew up. Now there is some news out there that Deadpool 3 will feature an old-school Marvel reunion. We already knew that Hugh Jackman will return as Wolverine, alongside Ryan Reynolds as the merc with the mouth. Who else do the jungle drums say might be returning? Well, first of all, some context, you know the drill when it comes to unsubstantiated rumors…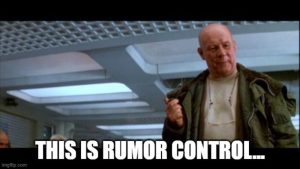 According to an internet insider called @CanWeGetToast, Halle Berry's Storm, Famke Janssen's Jean Grey, and James Marsden's Cyclops will all be appearing in the upcoming Deadpool sequel.
Birthday scoop 🥳

Hugh Jackman's Wolverine won't be the only X-Man returning in #Deadpool3! Halle Berry, Famke Janssen and James Marsden will also reprise their roles as their Storm, Jean Gray, and Cyclops respectively. pic.twitter.com/GkdCIr5ANK

— CanWeGetSomeToast (@CanWeGetToast) May 29, 2023
That is not all. The same scooper claimed that there are two big returning characters on the villain's side as well. One is from the Fox movies, and one is from the MCU. Who are they? The scooper refused to name them at this time.
Birthday scoop 🥳

There are TWO other cast members returning for #Deadpool3. One from the Fox X-Men movies and one from the MCU. They're villains and you would NEVER guess who. I'll reveal them in due time because it's far too early, so for now have fun speculating 😇 pic.twitter.com/3CQ58hOSt9

— CanWeGetSomeToast (@CanWeGetToast) May 29, 2023
This is all the rage, with multiverses meaning future incarnations of characters can be integrated into the background of current movies. The Flash features this at the center of its story and also includes one highly notable, unexpected cameo that has been leaked on the internet. How deep will Deadpool 3 go into this? Will they just be background characters?
Deadpool 3 reunites Ryan Reynolds with Free Guy and The Adam Project director Shawn Levy. Leslie Uggams as Blind Al, Morena Baccarin as Vanessa, Rob Delaney as Peter, Stefan Kapicic as Colossus, Karan Soni as Dopinder, Brianna Hildebrand as Negasonic Teenage Warhead, and Shioli Kutsuna as Yukio all return. Rhett Reese, Paul Wernick, and Zeb Wells write from a previous draft by the Molyneux sisters. Emma Corrin and Matthew Macfadyen join the MCU for the first time.
The first two Deadpool films are huge box-office successes with a combined worldwide gross of over $1.5 billion. They were R-Rated, swear-filled, blood-soaked mayhem. Will Disney ownership have any impact on this tone and approach? We have been promised that it won't. I would pay real money to see the studio notes passed back from viewing the dailies.