Just a few yards away from my old office is Great Portland Street, London. This is home to a small, but very successful production house – Tea Shop Productions. They specialize in, as they put it, "unique genre stories from brilliant filmmakers". 47 Meters Down was one of theirs, and made nearly $65 million on a $5 million budget. Last year's Fall, about two climbers trapped on a radio tower, pulled in $25 million on a $2 million budget. These are multiples that matter to those watching the money. Will The Bayou repeat that level of financial return?
It seems to be quite the week for people crashing planes into places full of bitey things. Already today we have brought you news of Renny Harlin's new project – Deep Water. Now Tea Shop is jumping on the trend. Here comes the blurb:
"The Bayou follows a group of friends crash landing in the water-logged, inhospitable Louisiana swampland. Megan Best (Nobody) leads the survivors who are out of their depth as they find themselves being picked off one-by-one by a relentless pack of alligators – led by a ferocious alpha female who is the apex predator of this region."
The director is Matthew Ninaber (Death Valley) and Gavin Mehrtens wrote the script from a story by Ashley Holberry. Mark Lane and James Harris will produce with additional funding from Cowboy Cosmonaut. Visual effects will be completed by Koala FX, the UK company that worked on Fall. Filming begins in the fourth quarter of this year.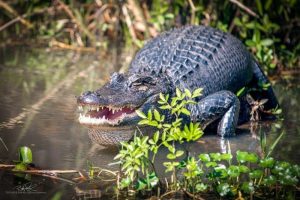 Alligators were already the prime chomping antagonists in  Alexandre Aja's Crawl from 2019, which was an excellent, tight, and contained thriller. Of course, Alligator from Lewis Teague and John Sayles remains the Daddy of alligator movies. Will The Bayou de-throne Ramone?