The Bear – oh my! I've heard lots of buzz about this show, and I always put it on the back burner for things to watch while working. You know, something to have on in the upper corner of your screen, nothing too distracting, while you are busy earning some coin. Put it this way, I was so engrossed and mesmerized by this show that not only did I watch two seasons (18 episodes) in a little over two working days, but I am now behind on my work schedule!
This show is fucking amazing, seriously! Just like some of the poncy food the restaurants serve up, I couldn't get enough of it. Every morsel of snappy dialogue, each scene whether it being confrontational families, or the struggles of running a business made me hungry for more.
I was gobbling this stuff up quicker than a fat, blue-haired, western chick would tuck into a box of Krispy Kremes and a gallon of Coke having spent the day protesting about capitalism.
What Or Who Is The Bear?
The Bear is a family nickname that each of the Berzatto family (the main focus of the show) members call one another. It's mainly reserved for the show's main character, Carmy and it's also the name of the restaurant Carmy wants to create. The Bear is everything and everyone. The official synopsis is as follows:
A young chef from the fine dining world returns to Chicago to run his family's sandwich shop. Carmen Berzatto, a brilliant young chef from the fine-dining world is forced to return home to run his family sandwich shop – the Original Beef of Chicagoland – after a heartbreaking suicide of his elder brother.
Carmy, played by Jeremy Allen White, is one of the most talked about promising young chefs in the world, who was also working at the world's best restaurant until the death of his brother Mikey. He left his hometown and traveled across Europe to learn his trade before settling in New York. As you will see as the show goes on, his family is a bunch of fuck ups and he was tired of their damn nonsense.
However, Mikey leaves the restaurant to Carmy, and being the dutiful son and brother, he turns his back on the industry he loves to return home and take over the reins. He quickly realizes he's been drawn back into everything he hated and that life has served him a gigantic shit sandwich.
Mounting debts, staff who don't respect him, family members who resent him, and an overall complete cluster fuck from the second he wakes up to the second he goes to sleep, Carmy is determined to turn it all around and realize his dream. The only problem is, he is way out of his depth and has no idea how.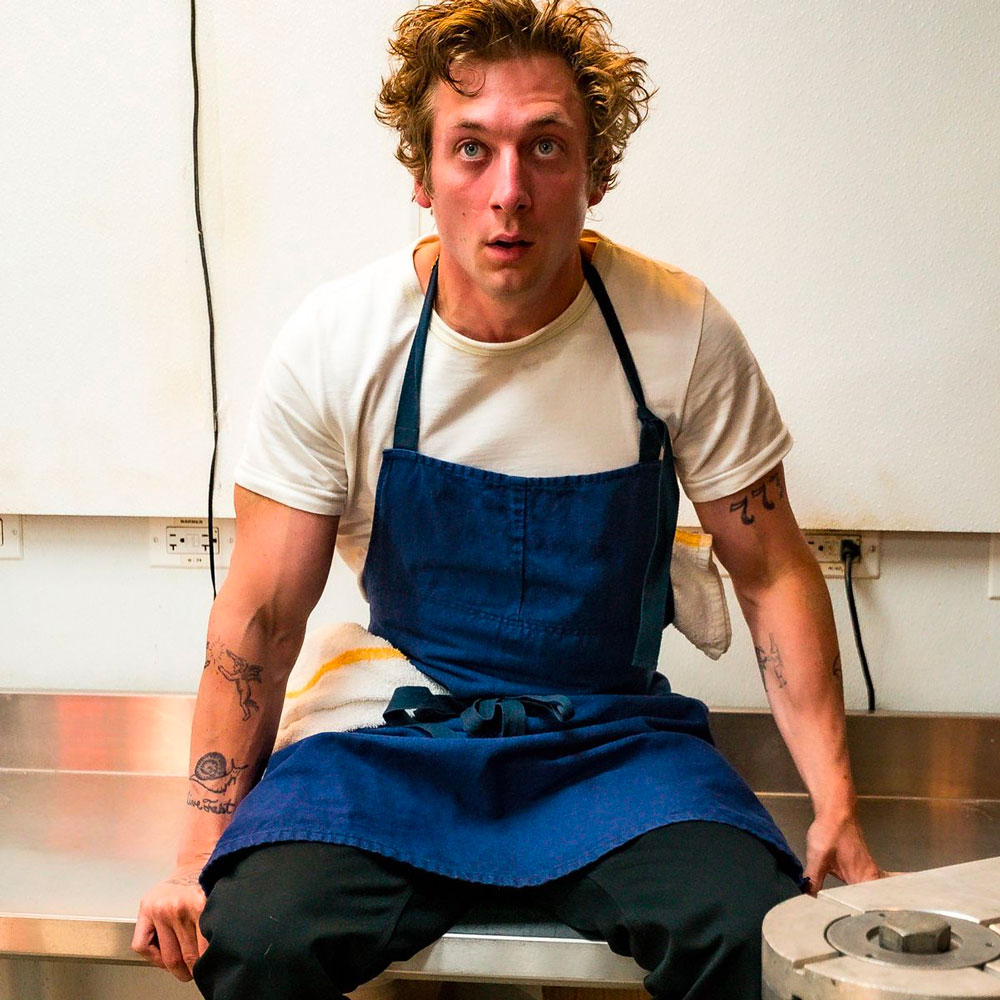 Yes Chef!
Like the restaurant business, this show is fast-paced and relentless. One would be forgiven for thinking it was written by Aaron Sorkin. It's got that quick, clever dialogue, with fast-paced editing that never lets up. There are scenes and scenarios that will leave you frustrated, leave you laughing, and sometimes you will be fighting back tears, (not me, I'm an alpha and I wasn't born with tear ducts).
Intermixed with all this craziness, are slower, more careful moments that show Carmy and his chefs creating food that makes you want to lick the screen. If Elon Musk or Apple needs to hurry up and invent Smellyvision, now is the time. It's a complete 360 from the human dynamics described above, and these scenes allow the audience to catch their breath. It really does give you a sense that when these chefs are creating these culinary masterpieces, it's the only time they seem at peace. It's great stuff.
On top of all that, is a stellar soundtrack. We get Radiohead, Edwin Starr, Geroge Harrison, plenty of REM, and rounded off with the likes of Dean Martin, Nine Inch Nails, and Otis Redding. The soundtrack is a menu of various audio delights!
The Cast
The main cast is a concoction of people of various races and backgrounds but not once, let me repeat that, not once is there any political lecturing about racism, sexism, sexual orientation, or any of that other bullshit that is an instant turn-off. Everyone is a cog in a machine that Carmy is desperately trying to fit together and make work.
In this day and age, it's refreshing to see all these characters, just getting along or having their differences without a victim mentality. This is how it used to be until the MSM and politicians realized that dividing and conquering was very profitable.
Season 2 in particular has a selection of real big-name chameos. I won't spoil who because it was a genuine surprise to see these fine actors and actresses show up. And the beauty of it is they all contribute something great to the story. It's simply not a case of "oh, look it's blah blah" – each of the characters they play bring something wonderful to the table.
Character Development
As the show develops over the two seasons, the character growth and friendships that develop are fantastic. The acting chops of the entire cast are incredible. There are lots of scenes that seem like they are ad-lib. I have no idea if they are, or if it's scripted that way. Regardless, the chemistry amongst everyone truly is top-notch.
My personal favorite, in particular, is Richie, played by Ebon Moss-Bachrach, he's a real scene-stealer every time he is on. His character development is, in all honesty, a little inspiring. From when you are first introduced to him, to the end of season 2 is… wow! One episode in Season 2, called Forks is genuinely heartfelt that you can't help but wonder if it's based on one of the writers' real-life experiences.
All in all, this show is by far the best thing I have seen in a long while. It's so good that I'm about to watch both seasons again but with the missus this time. I honestly can't get enough of it. Serve yourself a portion, grab a fork, and tuck in!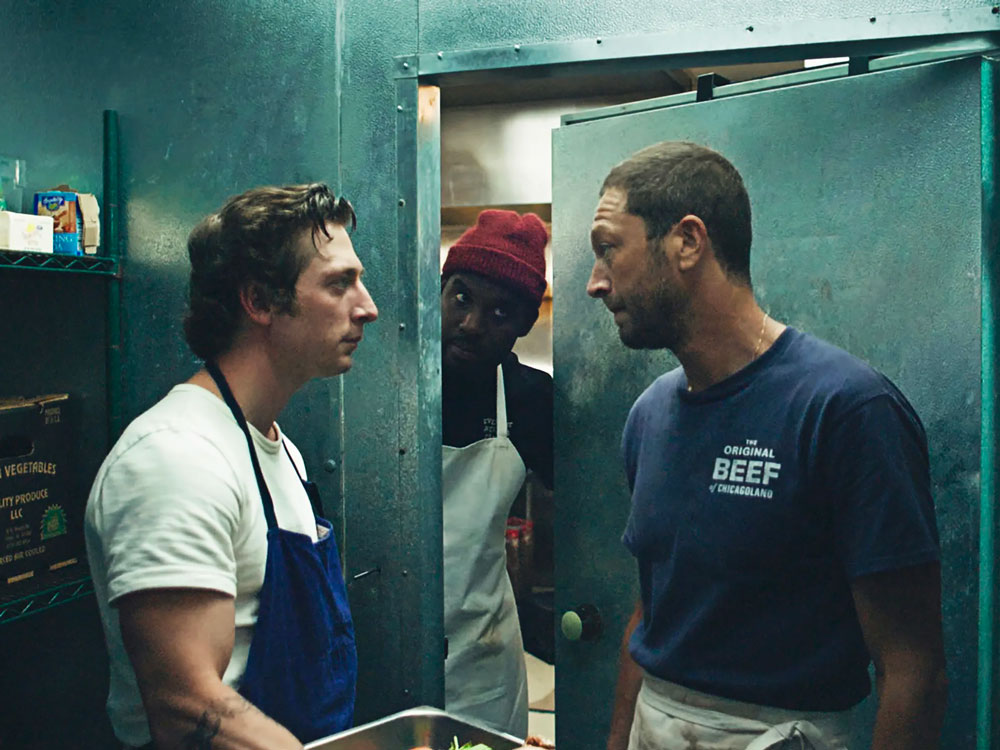 Check back every day for movie news and reviews at the Last Movie Outpost