The always excellent Empire Magazine has published the world-exclusive first photo from Beverly Hills Cop 4, or to give it the correct title, Beverly Hills Cop: Axel Foley.
Eddie Murphy is, of course, back. He is alongside other returnees Judge Reinhold, John Ashton, Paul Reiser, and Bronson Pinchot. No word yet on Ronny Cox showing up as a now long-retired Bogomil, although the plot is said to be about Detroit Police Department Lieutenant Axel Foley returning to Beverly Hills to investigate corruption within the Beverly Hills Police Department with his daughter and her ex-boyfriend, after the death of an old friend.
They're joined by new castmembers Taylour Paige as Foley's criminal defense attorney daughter, Kevin Bacon as an LAPD special-unit officer who crosses swords with Foley, and Joseph Gordon-Levitt as Foley's new partner.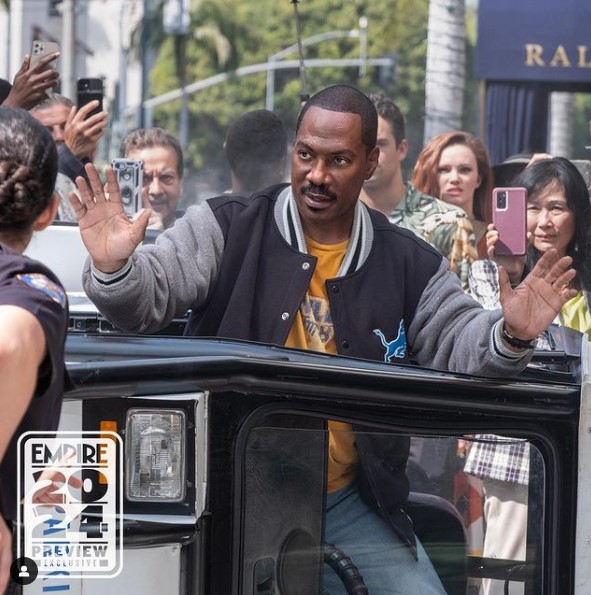 The movie is a long time coming. It officially entered development back in the mid-1990s and was then in development hell, going through directors and scripts for years. This iteration is being directed by Mark Molloy from a script by Will Beall.
Beverly Hills Cop: Axel Foley officially entered pre-production in February 2022 and received a California state tax credit of $16,059,000. Principal photography began on August 29, 2022, in San Bernardino, along with other areas in California, for 58 days. Filming also occurred in Detroit in November 2022 before production wrapped in early 2023.
Jerry Bruckheimer and Chad Oman are producing. The first three movies grossed a combined $616.2 million worldwide.
The fourth Beverley Hills Cop movie will debut on Netflix in 2024.
Check back every day for movie news and reviews at the Last Movie Outpost